12th of July 2023
Lovely outdoor 'homework training' with training friends, in Etten-Leur.....Dylan, CH. Bognaneilean Star Fish, NJK, did a good job. :-)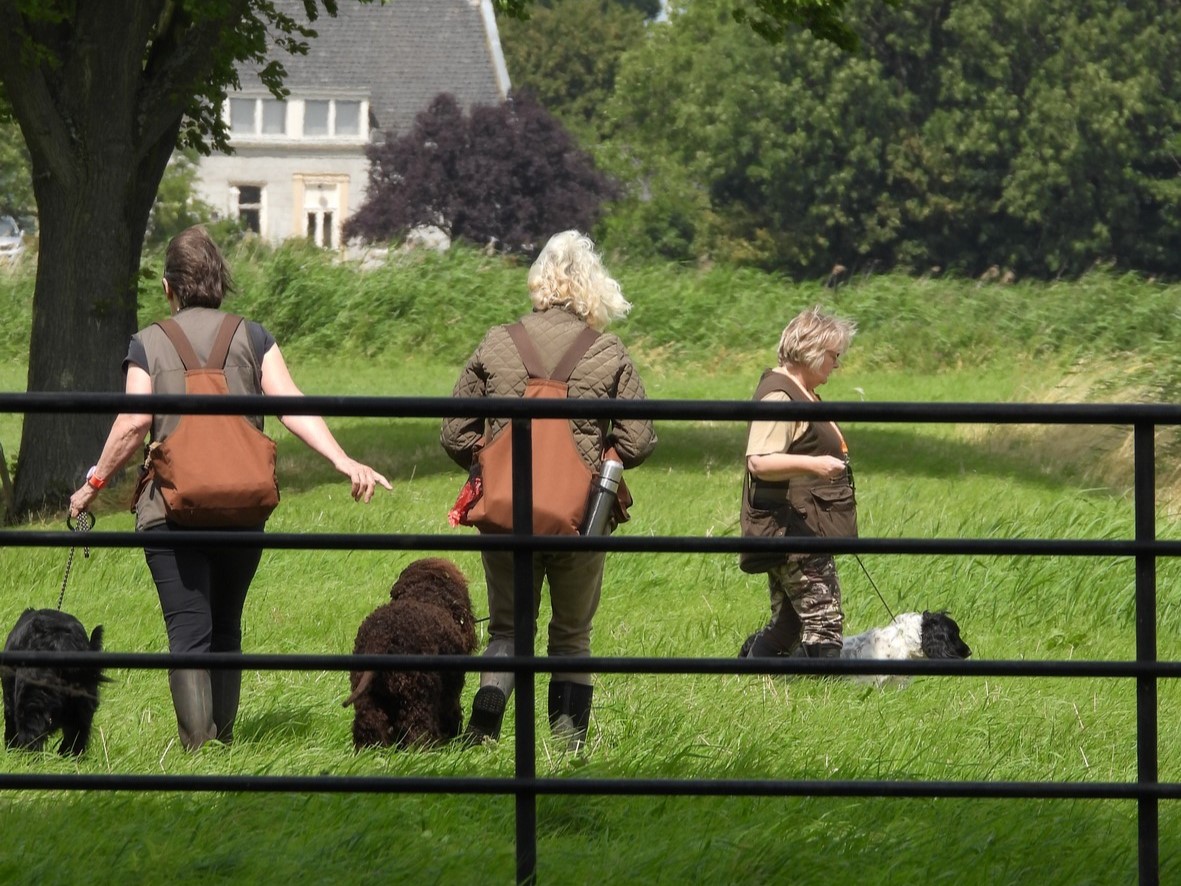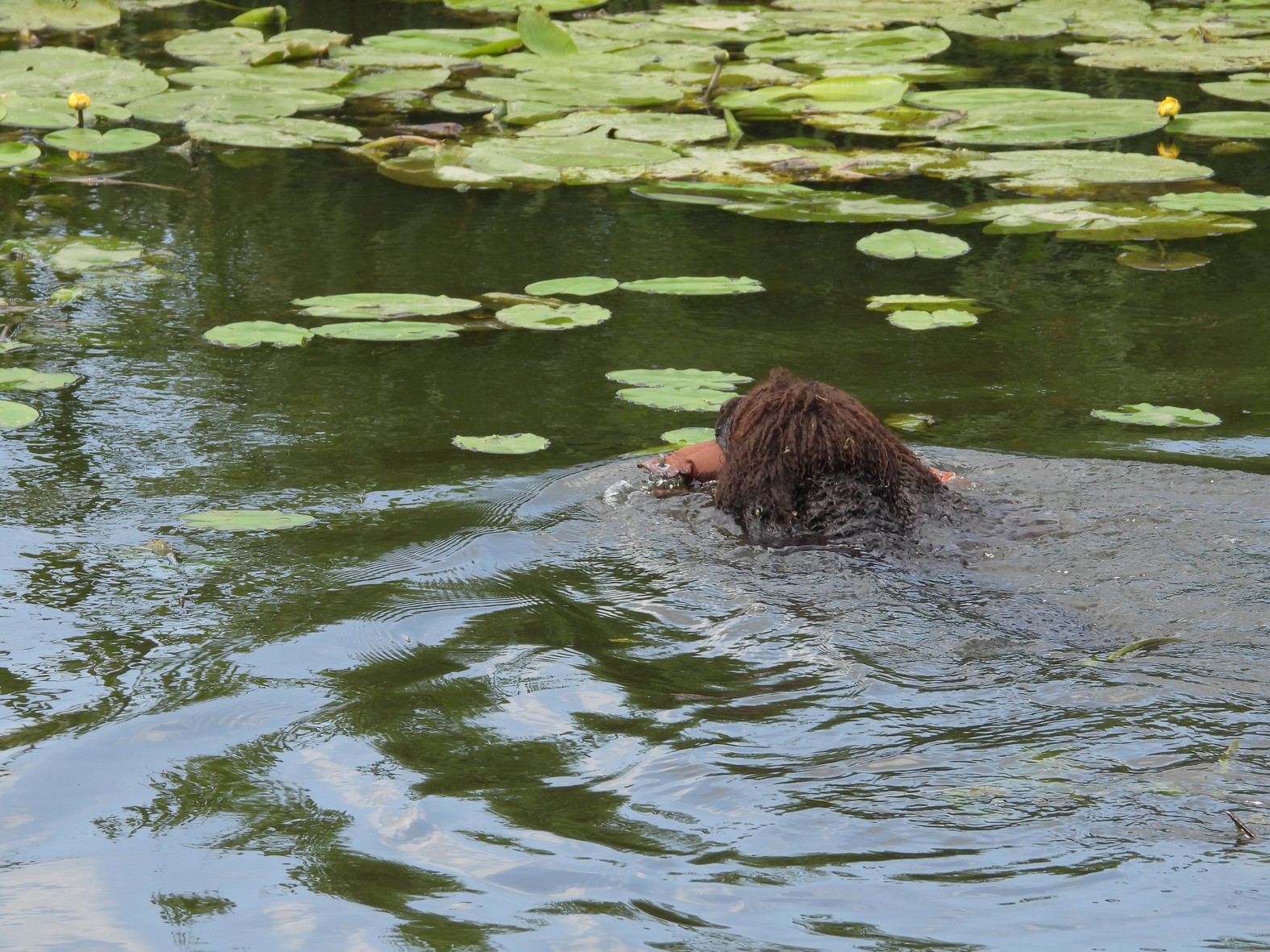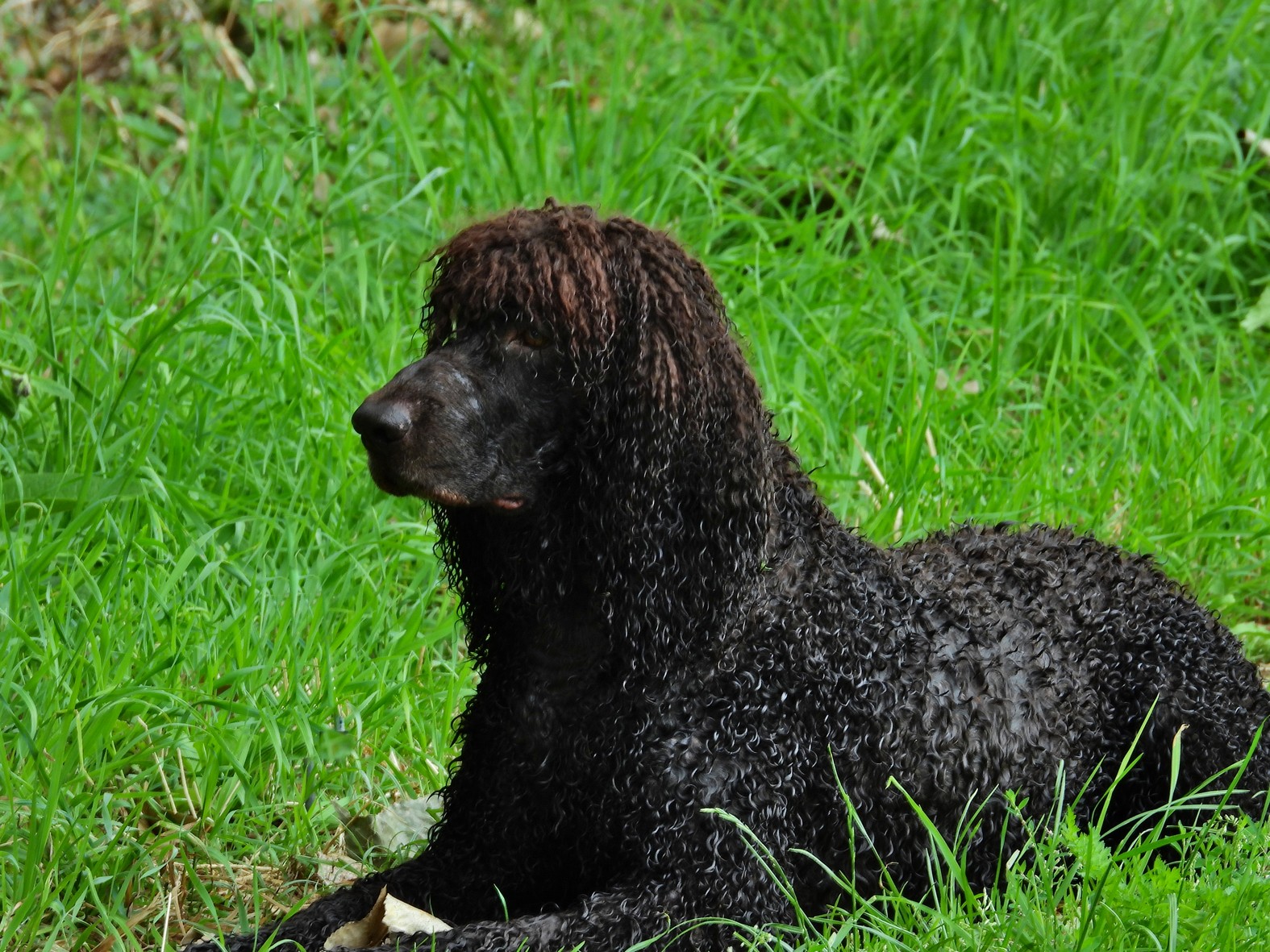 8th of July 2023
Home again, back from a lovely holiday in Norway/Sweden, together with Gailey and Dylan. We enjoyed the beautiful landscapes.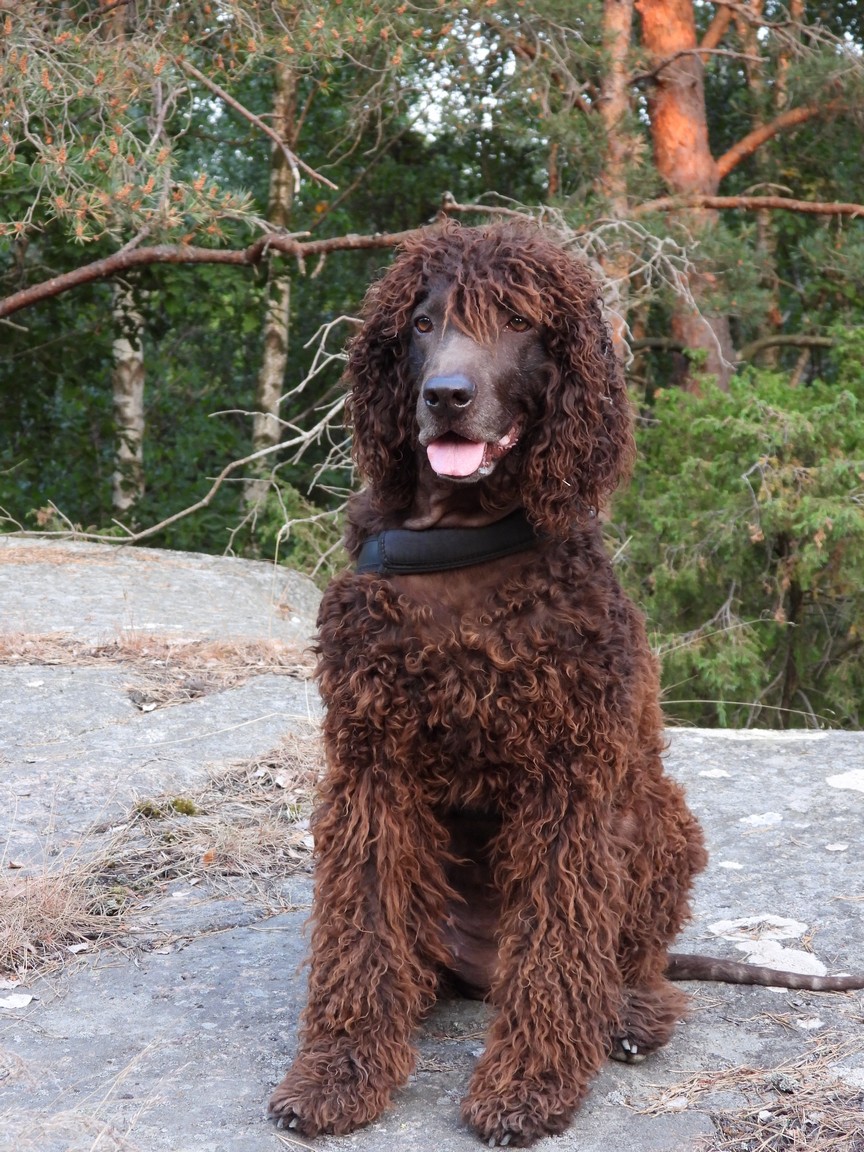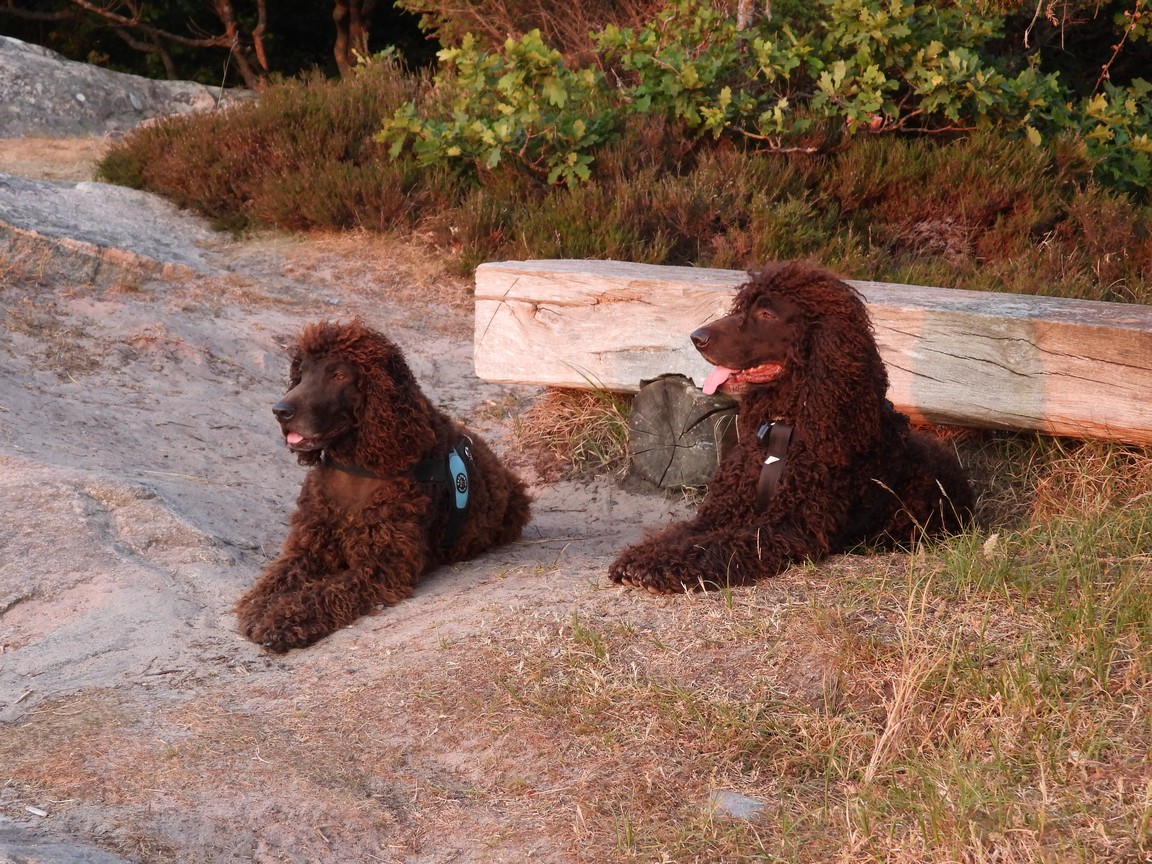 30st of March 2023

We had a lovely stormy walk with Dylan and Gailey along de Grevelingen.........water, bush, fields of grass and game. What does an IWS would like more...!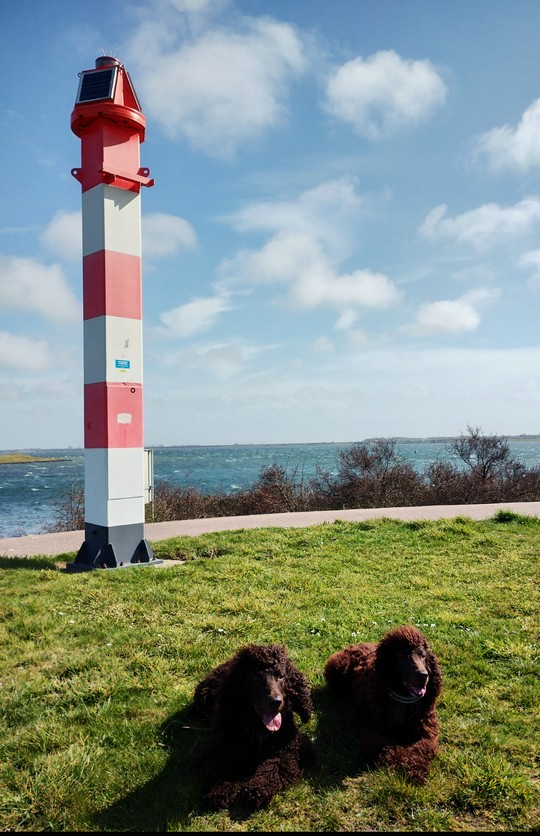 2nd of October 2022
Today, our dog Bognaneilean Star Fish, 'Dylan', did very well at the Gundog Working Test in Simonshaven. The WT was organized by the working Wetterhoun and entry was open for Curly coated dogs and Friezen (Stabij- & Wetterhoun). 29 dogs were entered and 27 participated.
There were the 3 usual classes, t.i. Starters, Novice and Open class. 5 Tests needed to be done, all with double retrieves, without leash. Handlers did not know what to expect. Tests were a combination of obedience, water- (hearing)retrieves, with long tracking work to cold game. Memory retrieves, steadiness and long distance retrieves a.o. with a distraction of a sudden 'running rabbit'.
The terrain was beautiful and there was a lot of space. However it was open for public, so sometimes a jogger or a biker passed. Dylan participated in Novice (15 dogs) and at the end of the day he was the winning dog in Novice class and was awarded with a prize for 1st place. Dylan got 91 points out of 100 points to be achieved.
His litter sister, Bognaneilean Samphire, Puck, who also participated in Novice, gained 5th place!
12th of July 2022
Unfortunately our adventure with Bryna - Saracen Hope for the Future - has ended. On the 12th of July last, Bryna returned to her breeder in N- America.
We have had a lovely and useful time together. We miss her very much. The good news is that Bryna, as it looks now, will get lovely offspring in N- America. :-)
2nd of July 2022
Bryna participated at the International Outdoor Summer Show Utrecht, on the 2nd of July 2022. Judge and breedspecialist Hannie Warendorf awarded Bryna with a 2nd Excellent and the Res. CAC/CACIB.
I was pleased that we were a good team that day. :-)
20th of February 2022
Dylan (Ch. Bognaneilean Star Fish, NJK), participated in a gundog Team Test today, in Klundert.
Organised by MoreThanDogs. 38 dogs participated, the majority of the participating breeds were Labradors (13) and Flatcoated Retrievers (8). Our team existed of A-level dog, a B-level dog and a C-level dog. (T.i. A = Heidewachtel-dog, B = IWS, dog and C = Flatcoated R., bitch).
In the morning the rain was not severe but around 12 O'clock it started to get worse and it did not stop anymore. The day before, there was a heavy storm and a lot of rain. So the terrain was awfully wet. But the planned Team Test – which was cancelled unfortunately because of the Corona lockdown in the Netherlands in December 2021– could actually go on now on the 20th of February 2022. 😊
The handlers were protected very well by their cloths and boots, but the dogs were getting very wet during the day. But…..no problem for an IWS apparently ……
Dylan gained a nice score and was the best performing dog of our team. Not alone by his gained score, but more of showing good gundog work by retrieving the challenging retrieves at B-level. (Handled without leash and a.o. sent for a jump over a gate at a distance of app. 50 mtr. and ignoring distractions like decoys and ignoring artificial noises of geese. He also needed to wait for the helpers who shot and threw for the A-test en C-test and of the performance of those dogs).
Dylan delivered all the 8 retrieves, sitting in front of me and to hand, including a crow. Average of his retrieves was 8,87. His total score was 78 points, of which 71 for the retrieves and 7 points for the walk-up. Dylan ended at the 5th place of 12 B-dogs.
I am proud of Dylan…….he did the IWS breed proud. He showed good gundog work under heavy circumstances and…..he did well, despite he was not trained since half December 2021, because I decided to have a Winter stop with him.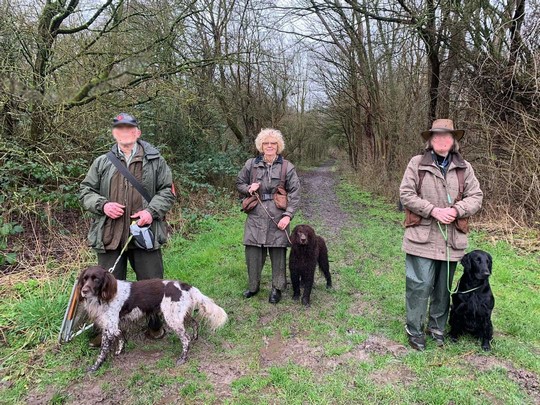 12th of September 2021:
Today - after 1 year in which it was hardly possible to show anywhere - our Dylan,
Ch. Bognaneilean Star Fish, gained 1st place, Best dog/BOB at the Clubmatch of
De Baronie. Judge was mrs. Wijnsouw.
Besides this, he was also awarded group 3 in FCI- 8.
The judging of the FCI-breed groups was done by 2 judges.
We are proud again of Dylan .... he was a good ambassador of the breed. 😊
26 juni 2021

Listening to the explanation of the tests © More than Dogs
Gundog training school More than Dogs organised a mutual SJP gundog test, in Ossendrecht.
Dylan gained the C-certificate with 44 points out of 50. With this result, he improved his score of last year.
27 april 2021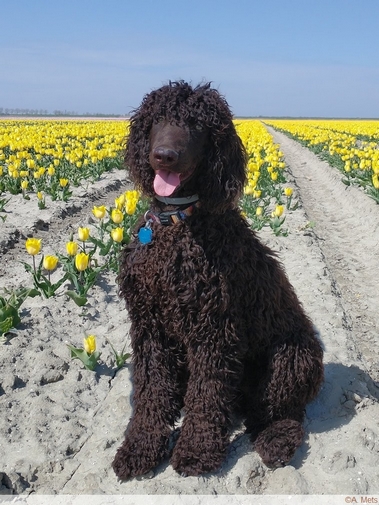 Today it is the aniversary of the Dutch King!
Unfortunately it is the 2nd time that it is impossible to celebrate this day the way as the Dutch population uses to do. During another discovery round with
Bryna
in our neighbourhood, we met a lovely flowering tulip field........ Bryna lives more than 7 weeks in the Netherlands already. :-)
05 maart 2021

Today we collected Bryna at Schiphol Airport. Her pedigree name is Saracen Hope for the Future. She is bred by Susan Sarracino & Bob Deihl in Wisconsin (USA). She soon had new friends in Amsterdam/Hoofddorp, after her arrival :-)
Because of the European rules, it is not allowed to import dogs who are younger than 15 weeks (because of the Rabius vaccination) and unfortunately by an extreme cold winterperiod in February 2021 in North-America, Bryna could not come to the Netherlands before the 5th of March.
We are very pleased that despite the Corona-time, this flight was possible..................She arrived!!
Together we will experience new adventures.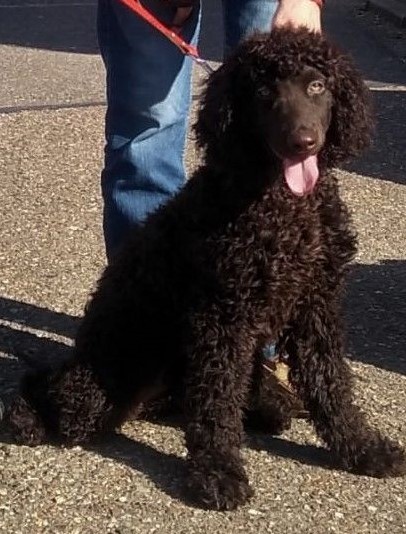 06th of September 2020

Dylan (Bognaneilean Star Fish, NJK) is awarded Best Dog of the breed at the 10th Championship Show (organized once in the 3 years) of the Ierse Water Spaniel Vereniging Nederland (IWSVN) by judge Rinie Leenen. He gained Dog CC, BOS.
Herewith he gained his needed points to become Dutch Champion.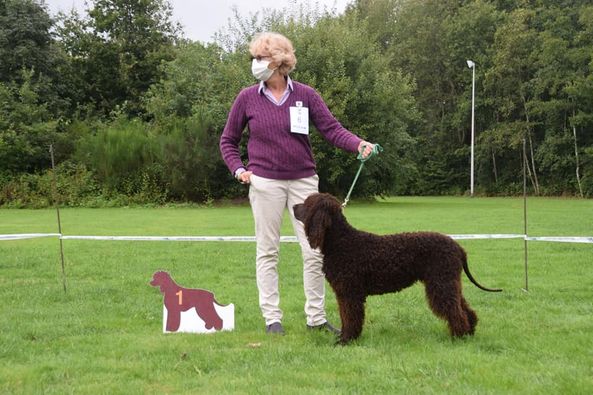 29th of August 2020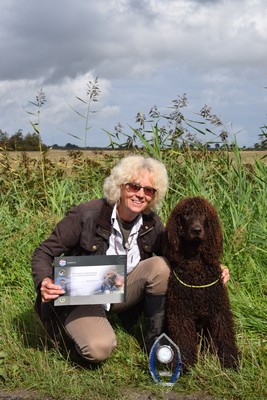 Dylan (Bognaneilean Star-Fish) gained at the official SJP gundog test, organised by the Stichting Zeeuwse Jachthonden in Arnemuiden, the C certificate with a 1st placement.

11th of July 2020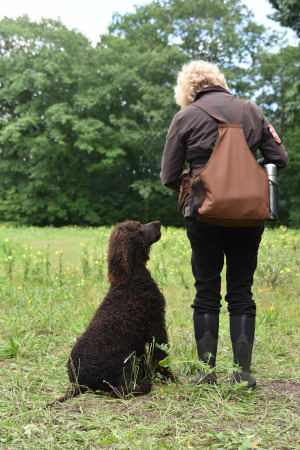 Gundog trainining school More than Dogs organised a mutual gundog test (after model of the SJP), in Ossendrecht.
Dylan gained the C-certificat with 40 points out of 50.
27th of June 2020
This day a gundog workshop was organised by the IWSVN in Putten, led by gundog trainer Marylou Bijvoet and helper Annelies Roeterdink.
5 IWSVN members participated. Hazel with Janette en Finna with Rina.
Also 3 littermates (2018) of the Bognaneilean Kennel participated. Those were Uisce met Toon, Puck met Mike en Dylan met mij.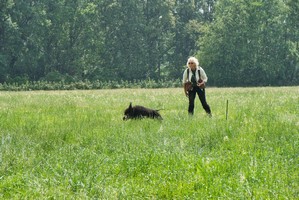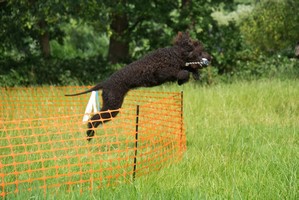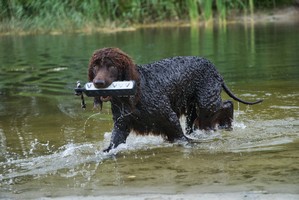 Bognaneilean Star Fish, NJK, 'Dylan' aan het werk: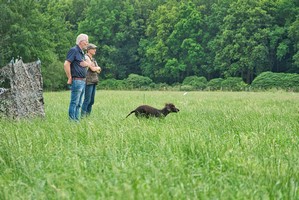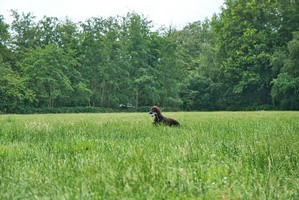 Bognaneilean Sea Fennel, 'Uisce':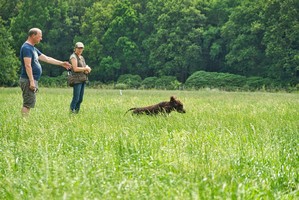 Bognaneilean Samphire, 'Puck':
Dank aan Michael Roeterdink, voor de leuke foto's.
Het was een heerlijke middag, de honden hebben leuk gewerkt en nieuwe nuttige dingen geleerd.
1st of June 2020

For the first time, it was allowed to organise outdoor activities again in Corona-time, in the Netherlands, under strict rules of the RIVM.
On the 2nd Pentecost day,
Dylan
had a good day at the
Workshop
of the gundog trainingschool
More than Dogs
at Klundert.
An almost real gundogtest was imitated with helpers/judges, all meant as a training for dogs and handlers. This was the first time for Dylan to be
at a gundog workingday.
21
participants were entered. The workshop included 5 tests, each with double retrieves.
For the 8 participants in Dylan's group, mostly retrievers, the tests were a variety of Marks with a gunshot, Blinds with sending dogs in a line, Obedience and double Losts in a dense wood. A lovely opportunity for the dogs to get aquainted to a gundogtest. :-)
All 10 retrieves, were nicely delivered to me, by Dylan. I am very proud of him.
At the end of the day,
certificates
were given to the participants and a historical group photo was made......at Corona distance.
After this, especially for the dogs warm and stretched day with a lot of impressions, it was wonderful for Dylan to be home again to relax and dream of this lovely day............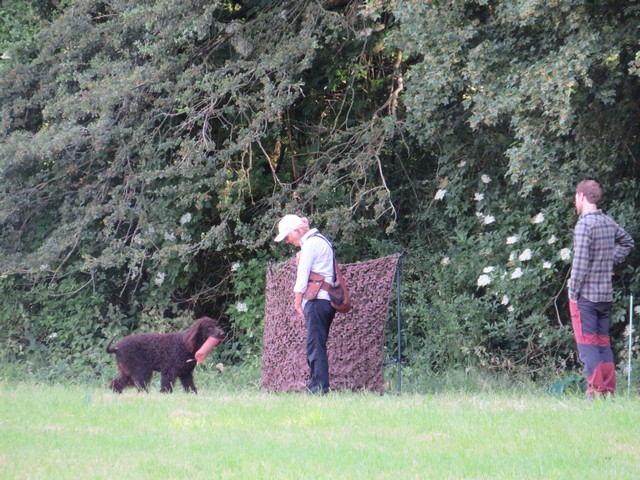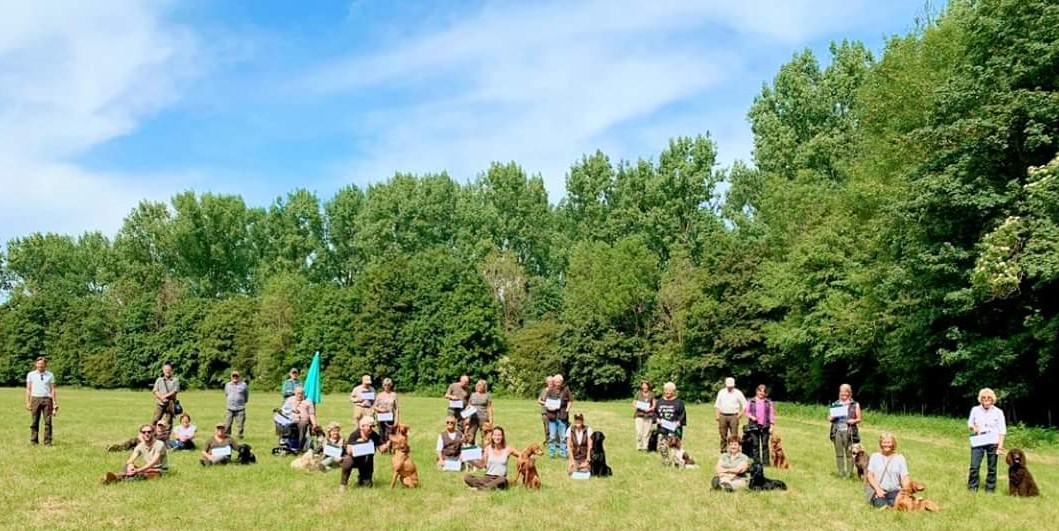 © More than Dogs
18th of March 2020: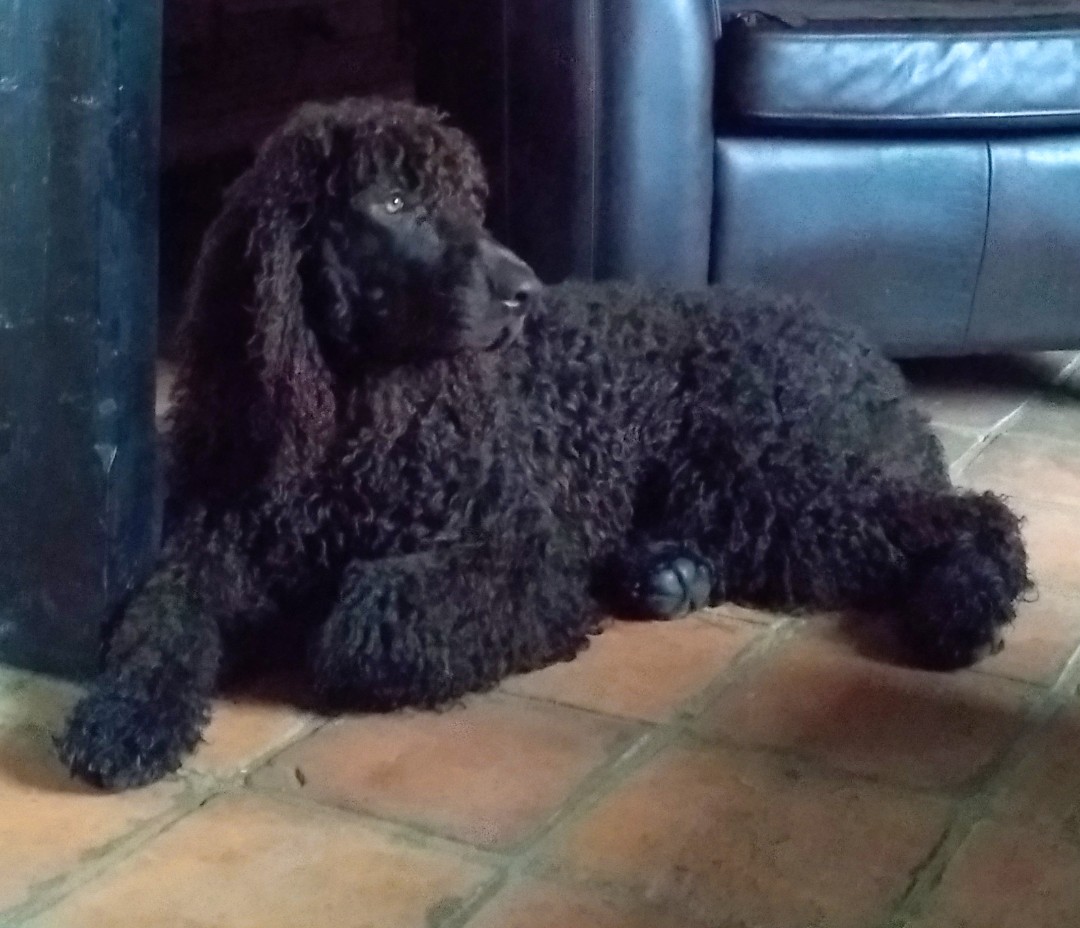 Dylan has been official ECVO eye tested by Mrs. Dr A.M. Verbruggen.
Result ECVO-eye test: CLEAR (except mild form of Distichiasis)
18th of February 2020:
Dylan gained at the KC Zeeland in Zierikzee the certificate V.E.G. (Voortgezette Elementaire Gehoorzaamheid = Advanced obedience). :-)
His score was high. t.i. 336 out of 340! He only lost 4 points of 13 parts of the exam. By this, he was best of the V.E.G. class and received a
medal 'Best V.E.G.'. !
21st of December 2019:
Dylan gained 2nd Excellent, Res.-CAC-Res. CACIB at the WINNER show/X-mas WINNER show in Gorinchem Judge was mrs. R. Birk-Opris from Denmark. Despite the IWS had to wait till the first last possibility to show in the ring, Dylan showed well. We are proud of him.
21st of July 2019:

Dylan, Bognaneilean Star Fish, NJK, participated at the IWSA Championship show in Scarisbrick, England.
Dylan was entered in Junior Class and gained 2nd placement.
By this result, Dylan is qualified for Crufts. 'Good boy!'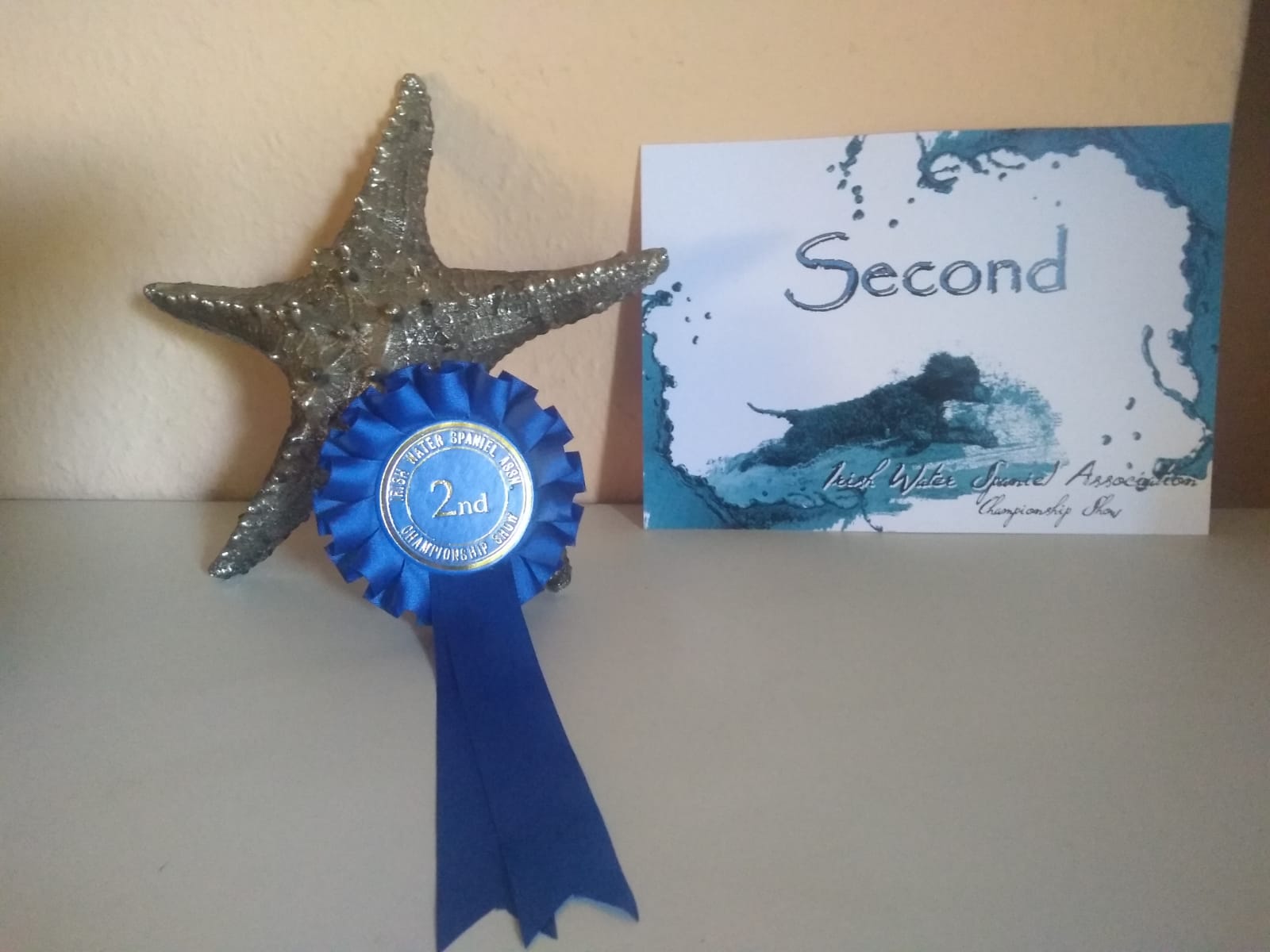 14th of July 2019:

Gailey, Bognaneilean Pheasant's-Eye, also participated at the SIWSC Gundog Working test, in Novice class. WT was held on the grounds of Chillington Hall in Brewood, England. This time she was very succesfull, under the same handler..... ;-)
After a run-off for 1st or 2nd place, because of equal points with another Novice participant, Gailey gained 2nd place in Novice class. :-)


13th of July 2019:
Gailey
,
Bognaneilean
Pheasant's-Eye
, participated at the
Gundog
Working
Test
for
minor
retriever
breeds
, organised by the United Retriever Club
(URC)
in Ingleby, England. Gailey did well in
Novice
class
and gained high points on the tests, but because of her handler she got unsufficient points at 2 parts of the test. :-)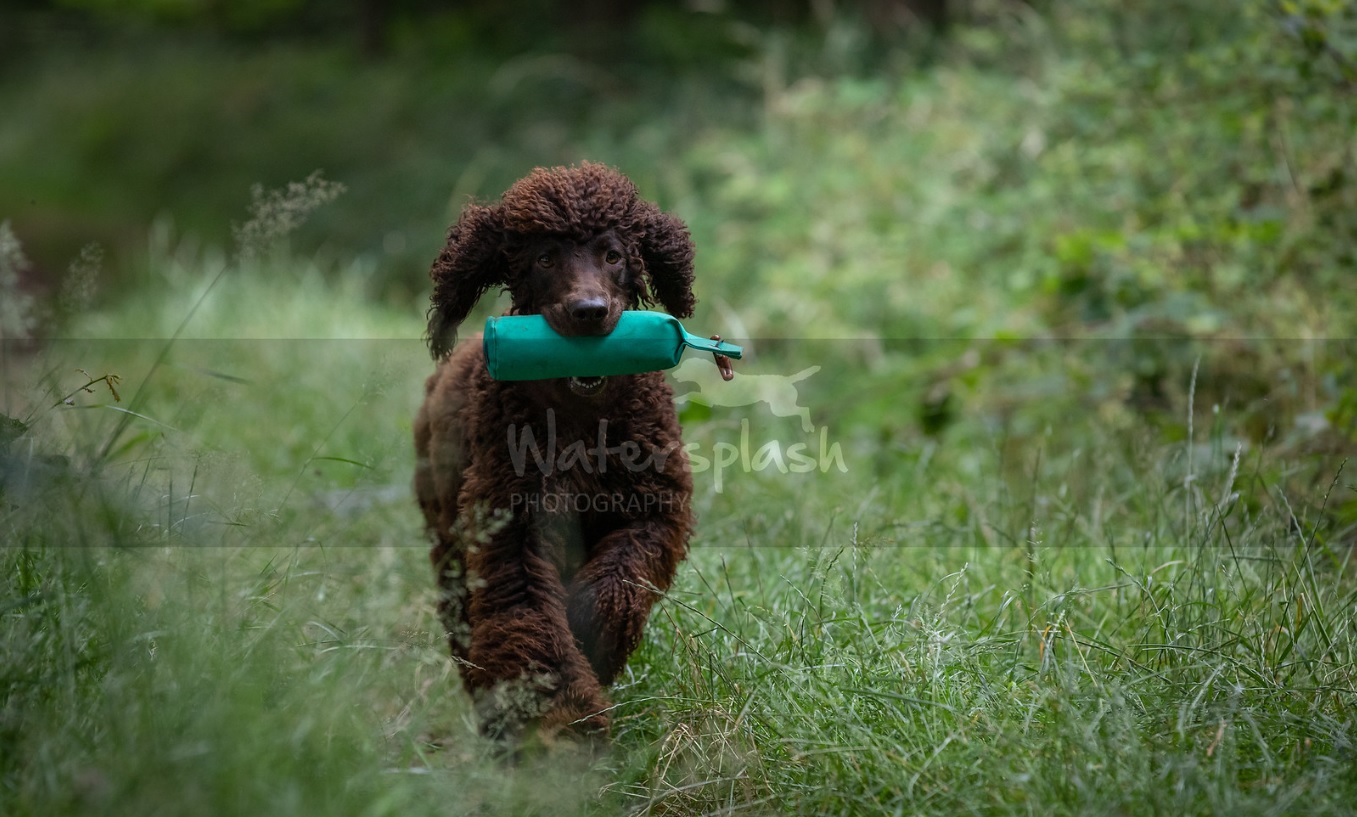 © S. Worrals
17th of May 2019
We received the certificate Dutch Junior Champion (NJK) from the Dutch Kennel Club for 'Dylan', Bognaneilean Star Fish.
20st of April 2019:
Bognaneilean Star Fish, Dylan, participated in the Goes Dog show in male Junior class.
He gained 1 Excellent, Best Junior, Best male (CC) and Best of Breed (BOB).
Herewith Dylan gained all needed points for becoming Dutch Junior Champion!
1st of February 2019:
Bognaneilean Star Fish,

Dylan
,
participated in the
Eindhoven
Dog show
in
male
Junior class
.

He gained
1 Excellent, Best Junior, Best male (CC) and Best of Breed (BOB)
.
We are even more proud of him.
14th of December 2018:

Bognaneilean Star Fish, Dylan,
gained
1st Excellent, Best Junior,
dog
-CC/ Best of Breed (BOB)
at the Holland Cup dog show in Amsterdam.
We are very proud of the son of our Gailey!

23th of November 2018:

The Dutch Kennel Club published today the championship of our bitch Bognaneilean Pheasant's-Eye, 'Gailey'
officially online, today.
18th of November 2018: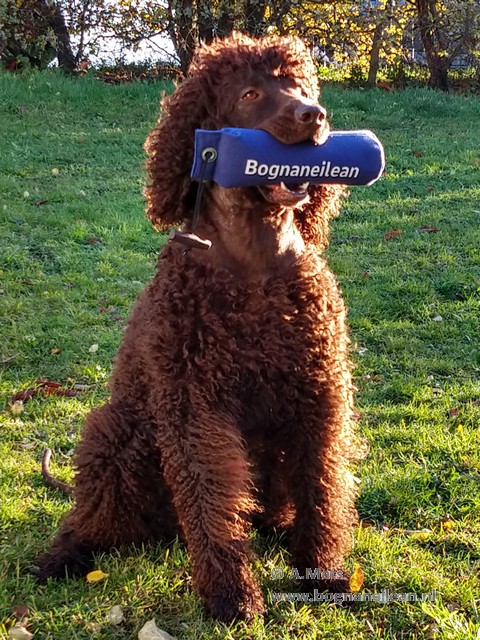 Gailey

participated at the dummy

Working

Test

, organised by the Nova Scotia Duck Tolling Retriever Club Nederland. No less than 100 dogs took part in
St. Oedenrode, this day. It was a sunny, but very cold day.
Gailey
delivered
all
double
retrieves
of 5 tests,
in
the
C
class
(
25
participating
dogs
)
.
To
this
end
,
she
was
awarded
the
Certificate
with
13
other
participants
in
the
C
-
class
.
The total of gained points, were higher than the score of the Best Nova Scotia Duck Tolling Retriever, on this day. With this achievement, Gailey finished her successful year 2018, in a decent way.
04th of November 2018: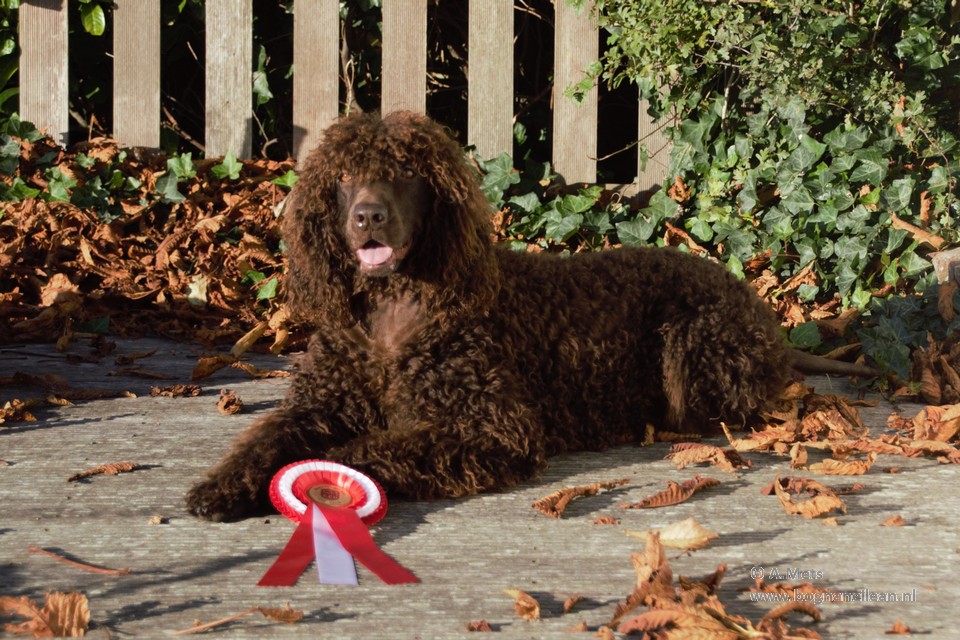 Sunday, the 4th of November last,
Gailey
(Bognaneilean Pheasant's-Eye) gained
Bitch CC/CACIB/BOB
at the dog show of KC Dordrecht held in Bleiswijk.
Judge: Mr. A.Simons.
13th of October 2018:

Saturday the 13th of October last, the Bognaneilean Puppy Return day of the Luther x Gailey litter took place. 8 of the 9 pups, were able to be present.
Great that the owners made the effort to come to Zeeland. After a warm welcome and mutual lunch, we went to a terrain to do some activities with the offspring and with their present 4-legged housemates. Really fun. At the end of the afternoon, all could have a swim in the Grevelingen.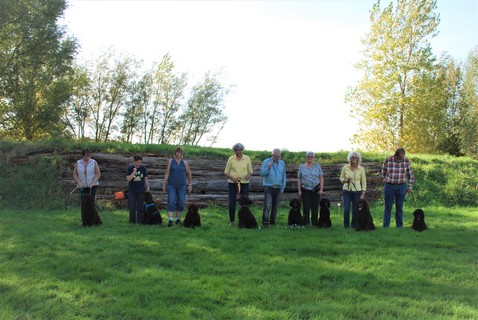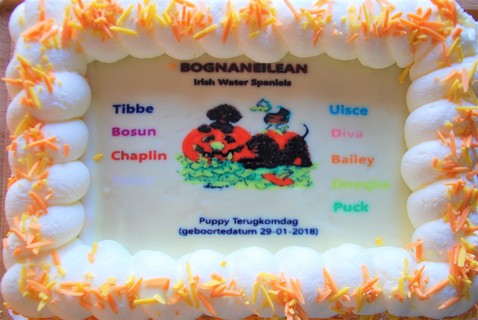 09th of October 2018:
Dylan
passed his exam at the Canine Club Zeeland, for the EG-course (First Obedience) with
279,5 points
He was
2nd
of his training class.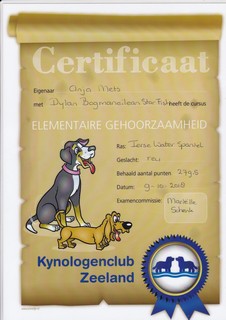 07th of October 2018:

WT for Curlycoated Gundogs in De Heen.
Gailey participated at the Working Test for Curlycoated Gundogs and the Friese Staby houns, in October last, in class B.
The participating dogs needed to do 5 tests. The WT was made for the work of the Wetterhoun and the Friese Staby. At the end of the day
it appeared that Gailey gained 5th place of the 14 participating dogs in class B.
We are very proud of her, as she gave birth to a litter of 9 pups in 2018 and went back to the gundog work again.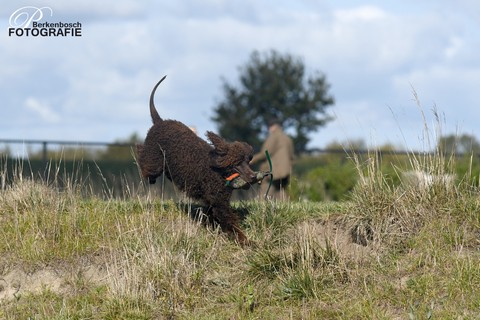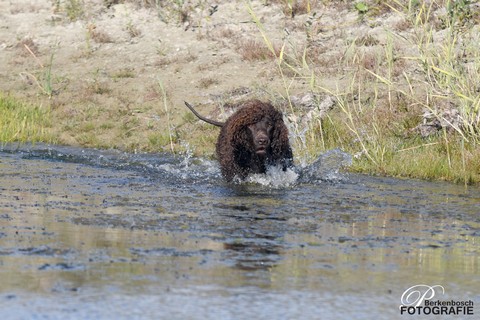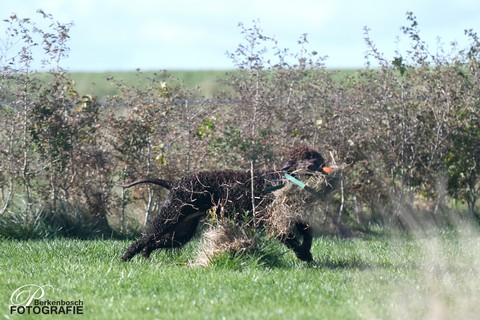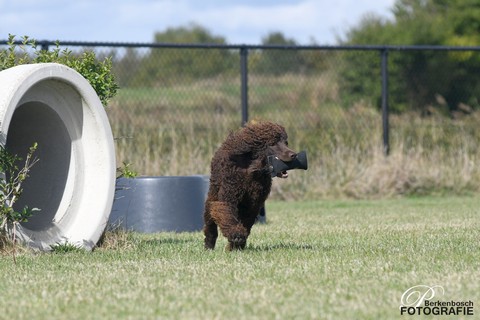 18th-22th of September 2018:
Dual purpose Gailey! We went to France with Gailey. Gailey participated in a 4-days gundog workshop and at a shoot, around a beautiful, authentic Lodge with great hospitality for dogs and owners, in Enfonvelle. Gailey met - for the first time - warm game during the shoot. Very special to have had this opportunity, as in the Netherlands it is almost impossible to work with warm game in case one is not a hunter. Cold game never has been a problem for her.
Gailey made fantastic marks and retrieves and - although heavy terrain - the big distances were no problem. 3 Retrieves of pheasant cocks, straight into hand!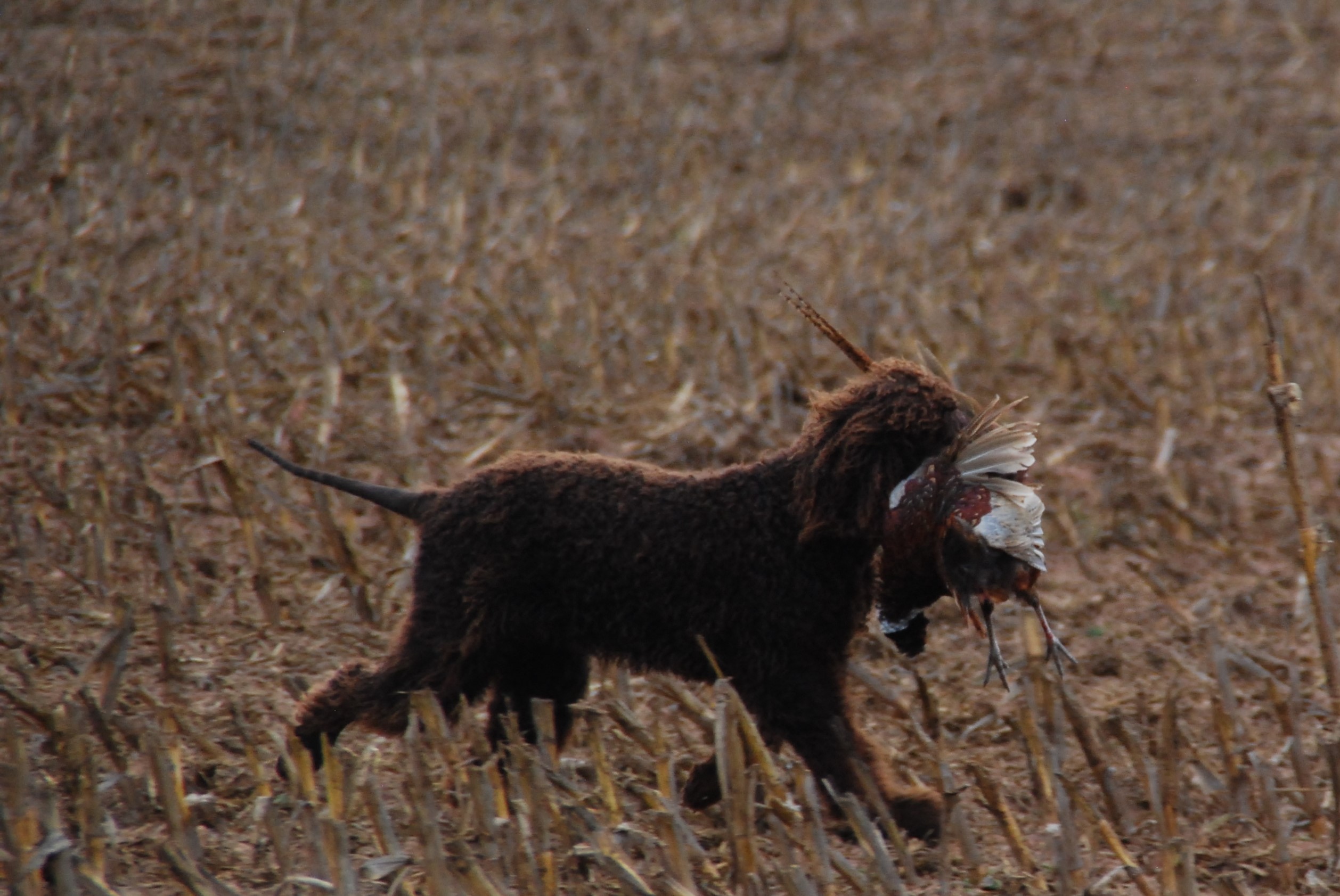 9th of September 2018:
Show Rotterdam:
Gailey gained in Open class, 1st Excellent, Res- CAC/Res. CACIB.
Son Dylan, in Puppy class: Best Pup and was awarded 9th place in Best Puppy competition in the main ring.


Bognaneilean Star Fish, "Dylan"
3rd of September 2018:
De Heen: Gailey participated in the Beet clinic, organised by the Gundog trainingclass of the Zwarte Goud. Heavy terrain and long distances. A shoot was stimulated. Participating dogs had to walk up and stay steady. Gailey did well. Gailey retrieved 2 mallards (cold game) and a dummy through the Beets, and further away from the field, laying behind the Beets.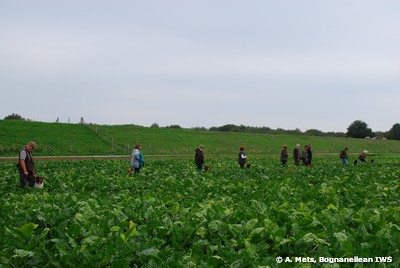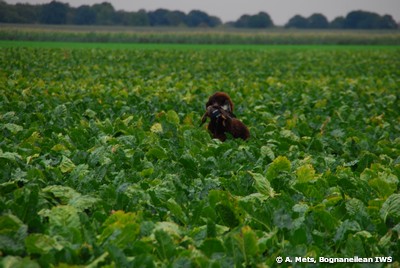 ---


During the Working- en Show weekend of the German Jagdspaniel Klub LG Hessen in Alsfeld the next results are gained by Bognaneilean IWS:

18th of Augustus 2018:
Bognaneilean Pheasant's-Eye (Gailey):
SWT-certificate with 3rd place Dummy test in Novice. At the show afterwards. Open-bitch: 1Exc., Hessen Sg, CAC(VDH)/CAC/ BOB
judge Jochen Eberhardt, D.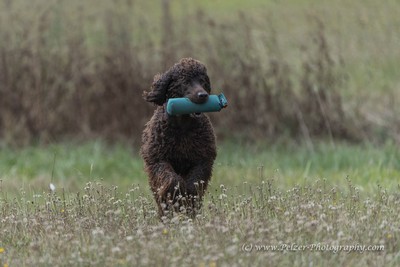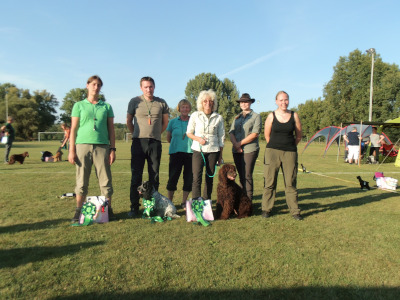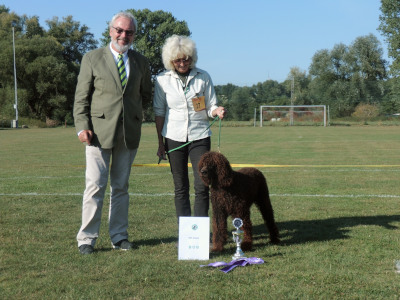 Bognaneilean Haresfoot Clover (Bolero):
SWT
-
certificate
with
3rd place
Dummy test in
Open.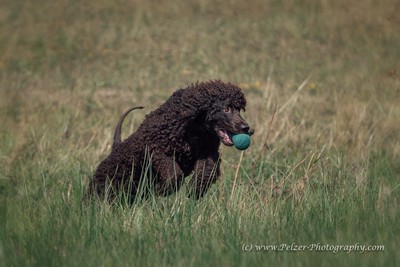 19th of August 2018 - Jagd Spaniel Klub show results:
Bognaneilean Pheasant's-Eye (Gailey): 2 Exc. in Open R-CAC(VDH)/ R-CAC
Bognaneilean Star Fish (Dylan): in Puppy class - Dog: Best Pup vp1
Bognaneilean Porpoise (Chaplin): in Puppy class - Dog: vp 2. Owner Sonja Neuhaus
Bognaneilean Haresfoot Clover (Bolero): in Open: 1 Exc. KS Sg, CAC(VDH)/CAC/BOS. Owner Sonja Neuhaus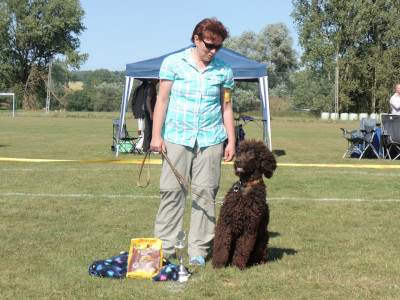 Sonja Neuhaus with Bognaneilean Haresfoot Clover (Bolero) has gained the title Klub Working Champion 2018, with 157 Points. (On base of achieved results during the show and working weekend). Congratulations Sonja!

27th, 28th and 29th of July 2018:
60 years jubilee of the Game Fair,on the grounds of Ragley Hall (UK).
The Continental IWS demonstration team showed some nice gundog work during the IWS display at the Game Fair days in July.
4 adult IWS were involved, as well as 2 pups of almost 5- and almost 6 months old.
Bognaneilean Pheasant's-Eye, Gailey and Bognaneilean Star Fish, Dylan took part also. The goal was to show that the breed can do nice,
quick and driven gundog work. There were enthusiastic reactions afterwards, so the team did the breed proud.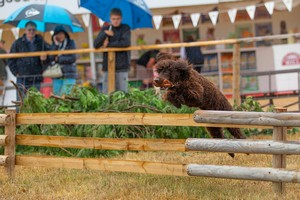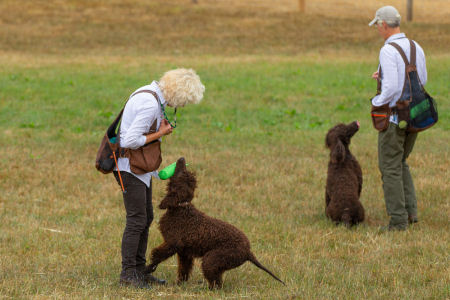 Gailey Gailey Gailey delivering Complete team, honoring the 'game' on tableau.
© Neil Rice
22nd of July 2018:
Like mother, like son......Gailey and her son Dylan, gained both at the IWSA Activity day, in 'Obstacles' 1st prize in the UK (Walford).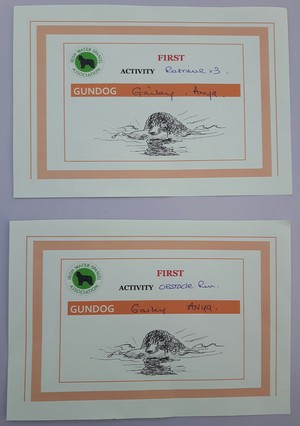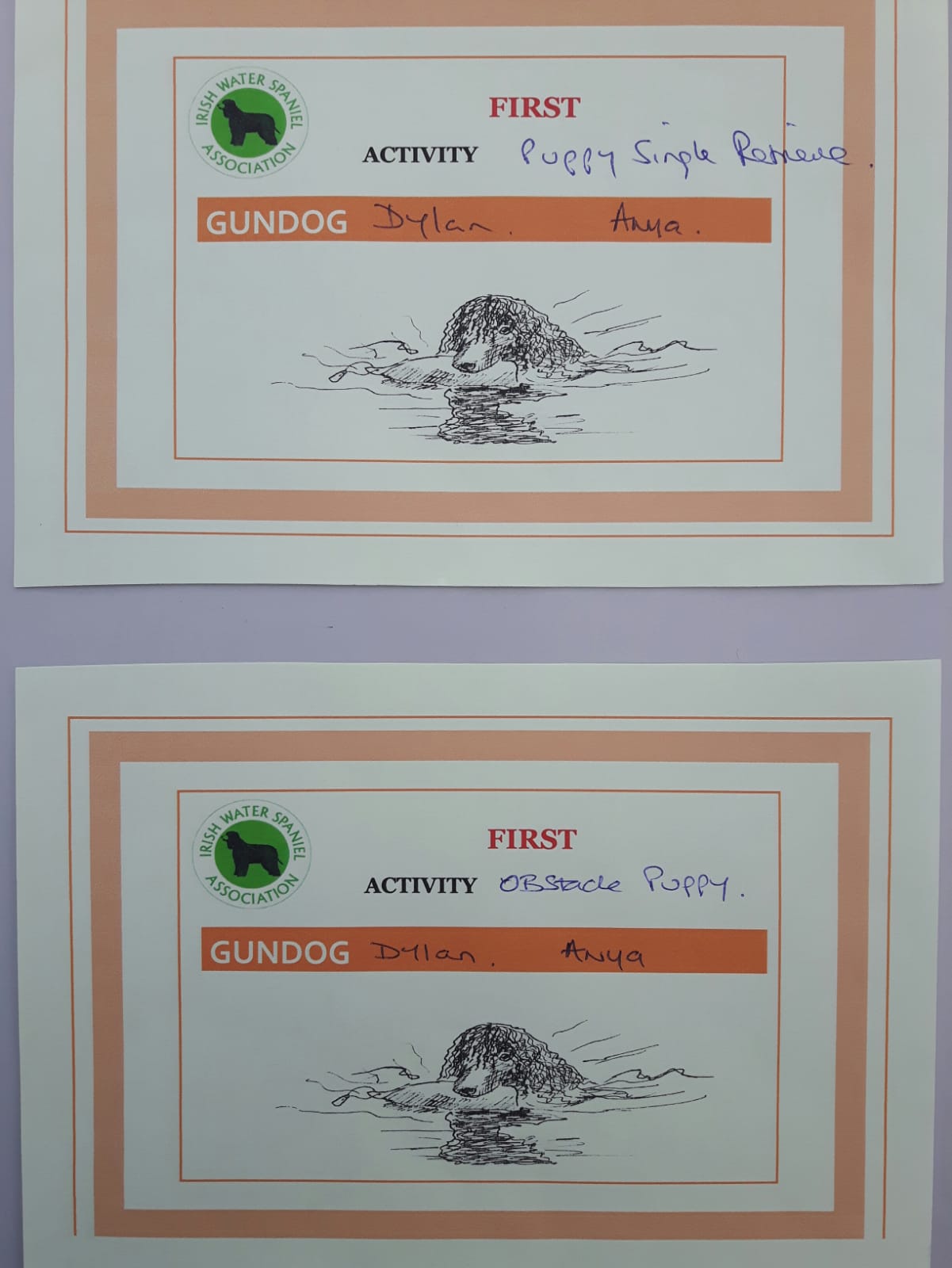 24th of June 2018:
At the Hanze show in Zwolle (NL) Gailey gained 1st Excellent in Open class and RCACIB. Judge was: Mr. Srdan Kokotovic (RS)



5th of June 2018: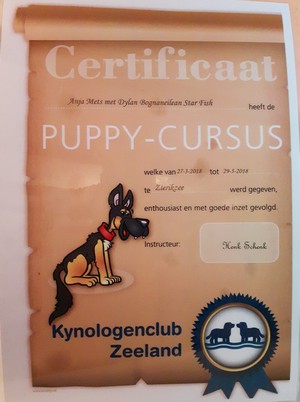 Our Dylan, Bognaneilean Star Fish, has finished the puppy course at the KC Zeeland. Now looking forward to the follow-up..... :-)

26th of May 2018: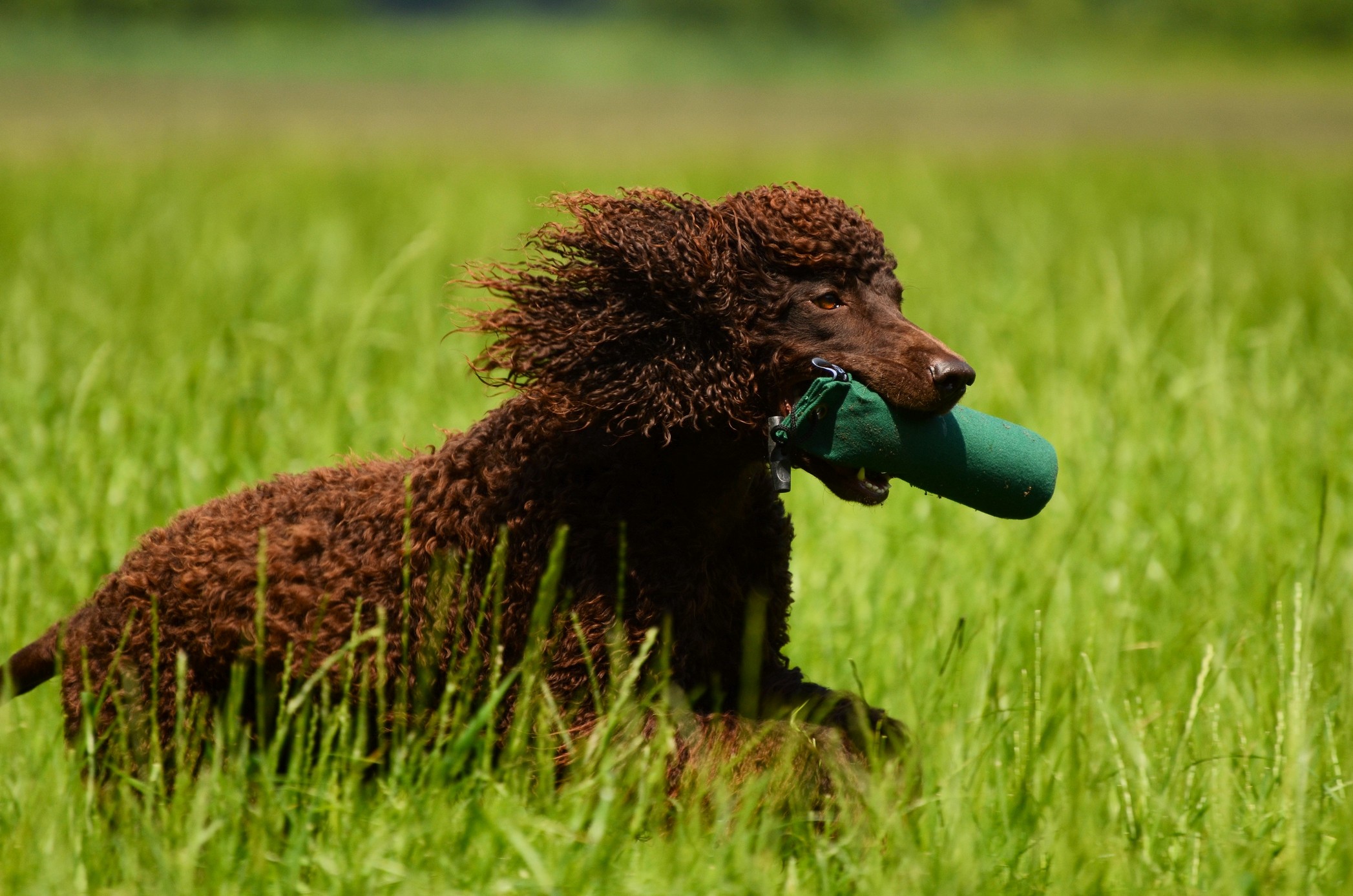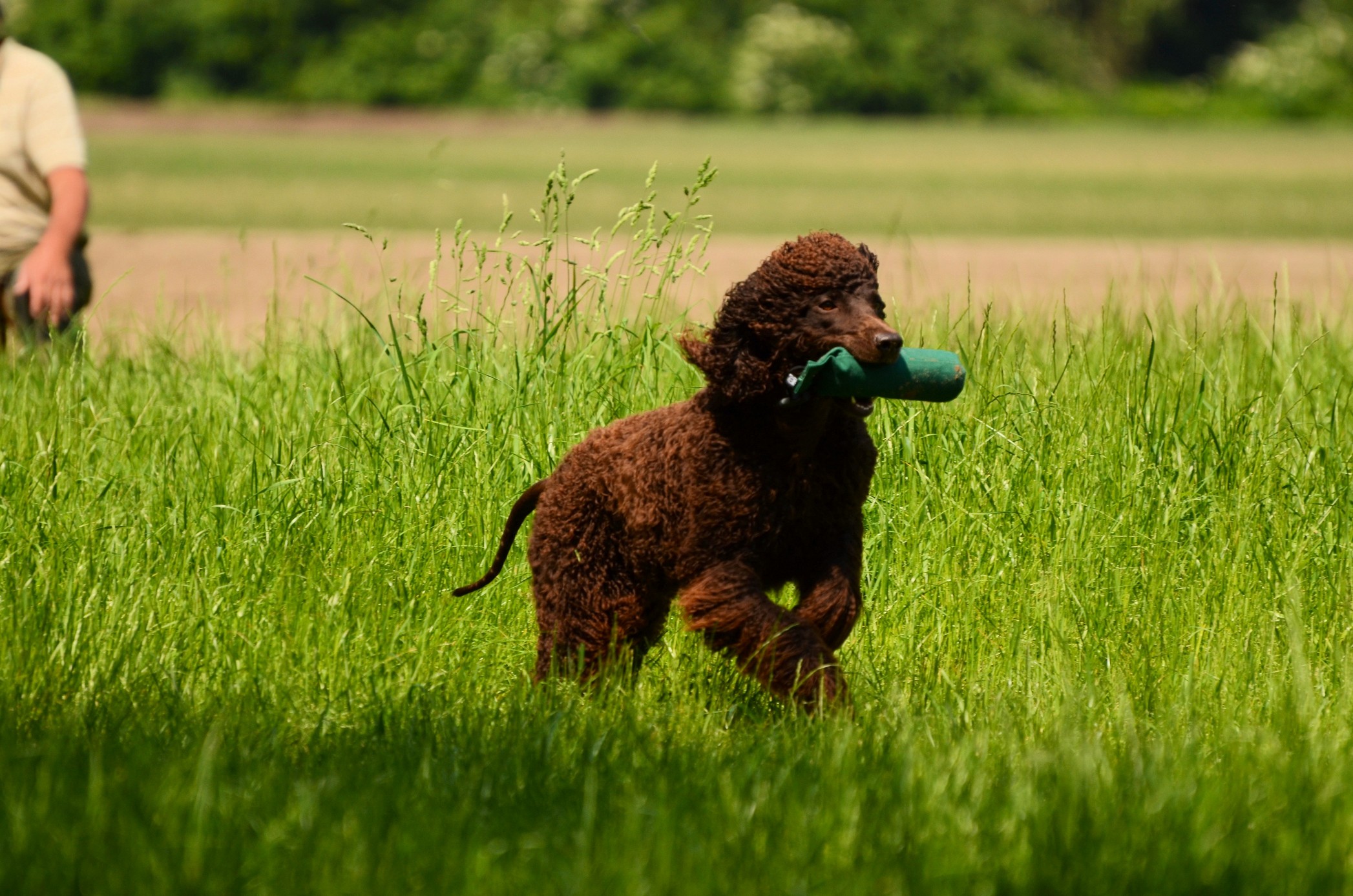 © Foto's: Remy de Kort
At the 26th of May 2018 Gailey participated in the OWT in Dongen, organised by the Dutch Association 'German Pointer Longhair'. It was a warm- but
sporty day. For Gailey it was the first time she participated in the OWT, in Novice. She didn't gain a certificate this day unfortunately, but showed nice work. Little puppy Uisce, her daughter (Bognaneilean Sea Fennel), attended the grounds to support her mother Gailey. :-)


16th of February 2018:

A basket full of IWS.


31th of January 2018:


Finally!
Gailey got an IWS litter on the 29th of January 2018!
The 4 males and 5 bitches are doing fine.

The combination is: Sh. Ch. Gloi Donn All or Nothing at Stanegate, 'Luther' x Bognaneilean Pheasant's-Eye, 'Gailey'
The official screening of Health tests has been done and with excellent results.
COI: 8,55686% (calculation over 10 generations)

Info: A. Mets, anja@bognaneilean.nl, +31 614418596
27th of January 2018: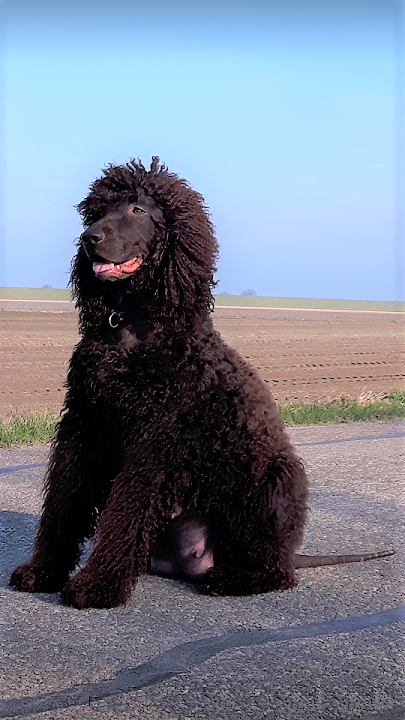 Approximately one week to go for Gailey and then we hope to welcome her pups.


At the start of February 2018 a IWS litter is expected
of
Bognaneilean Pheasant's-Eye (Gailey)
We breed only with dogs that proven themselves at practical shoots, gundog- and/or workingtests and at dog shows.
Parents are officialy examined at least on hip dysplasia (FCI), elbows (FCI), eyes (ECVO) and DNA (Kennelclub),
in accordance with the Breed rules of the IWSVN (Dutch IWS association) in conjunction with the Dutch Kennelclub.
You are very welcome for further information: +31 6 14418596
___________________________________________________________________
26th and 27th of August 201
7
Owner and handler Sonja Neuhaus, big congrats with another great result of Bolero. Just like 2016!
Bognaneilean Haresfoot Clover, aka Bolero, gained 1st prize at the gundog Workingtest in Alsfeld (Germany), organized by the
German Jagd Spaniel Klub. At the show he gained 1st Excellent and dog CC and BOS!
Besides those, Bolero gained 3rd place at the over-all competition for work-and show-winner of the weekend!
A successful weekend!
9th of July 2017:
SIWSC Breedconfined Gundog Working Test 2017: Grounds of Arbury Hall in Nuneaton (UK).
Judges: Mr. N. Varney en mrs. D. Walls-Duffin.
Gailey (Bognaneilean Pheasant's-Eye) was entered in Unclassified and in Novice.
WT ran under English Kennel Club rules & regulations.
Despite the warm and hot day, Gailey gained high scores in both classes. A.o. 3 x 20 points. (20 points are the highst scores).
Unfortunately also 1 zero with a double retrieve in Unclassified as well as in Novice. This part of the test was a marked retrieve and a blind.
It was too hot in the field for the dogs to go on hunting and Gailey had to stop also.
In the 4 classes, there was only 1 placement. Congrats to winner.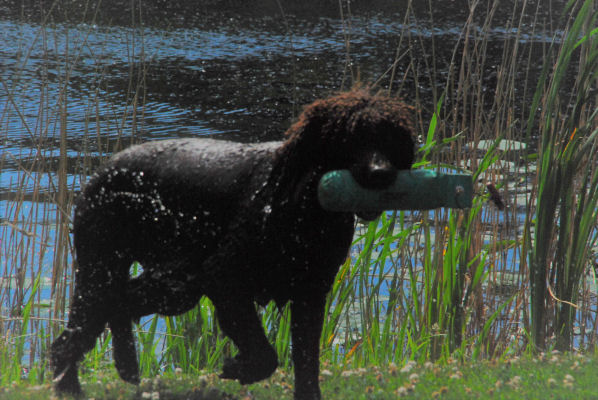 ___________________________________________________________________
25th of January 2017
Thyroid test result: Gailey
Normal: (T4 dog: 17-58 nmol/nl: 27.7)

29th of October 2016
Workingtest Huntingdogs (Hoekse Waard-Nl):
Gailey gained 405 points. (9 out of 10 retrieves).
By this she gained the highest result of the dogs that retrieved 9.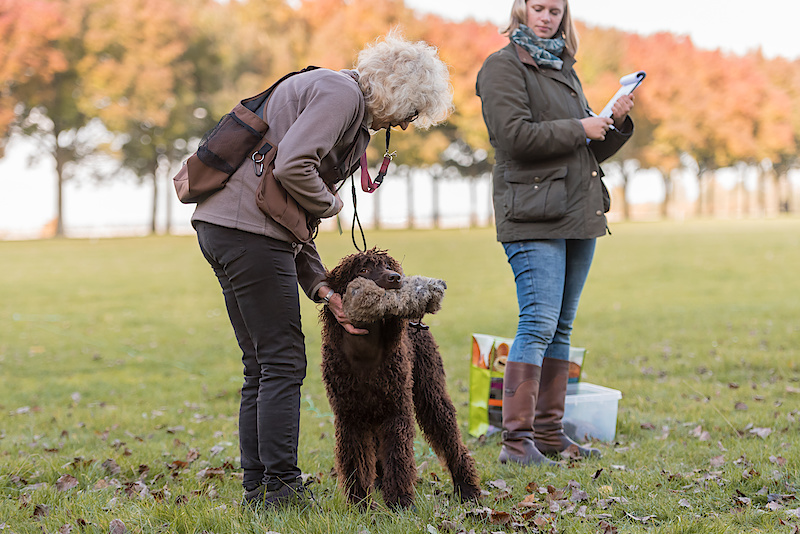 24th of September 2016
Gailey, (Bognaneilean Pheasant's Eye) gained the KJV jachthondenproef (cold game test) in Kampen the C Certificate.
23rd-24th of July 2016
The weekend of 23rd and 24th of July 2016, another pup of Myra gained success. This time, Bognaneilean Haresfoot Clover, 'Bolero'.
Bolero was overall 2nd, gained by the result of the 23rd of July 2016, during the gundog dummytest of
the Jagd Spaniel Klub in Alsfeld in Germany and at the show organised by the JagdSpaniel Klub in Alsfeld
on the 24th of July 2016, 1 Excellent CAC, (BOB).
Congrats Sonja, well done by the two of you!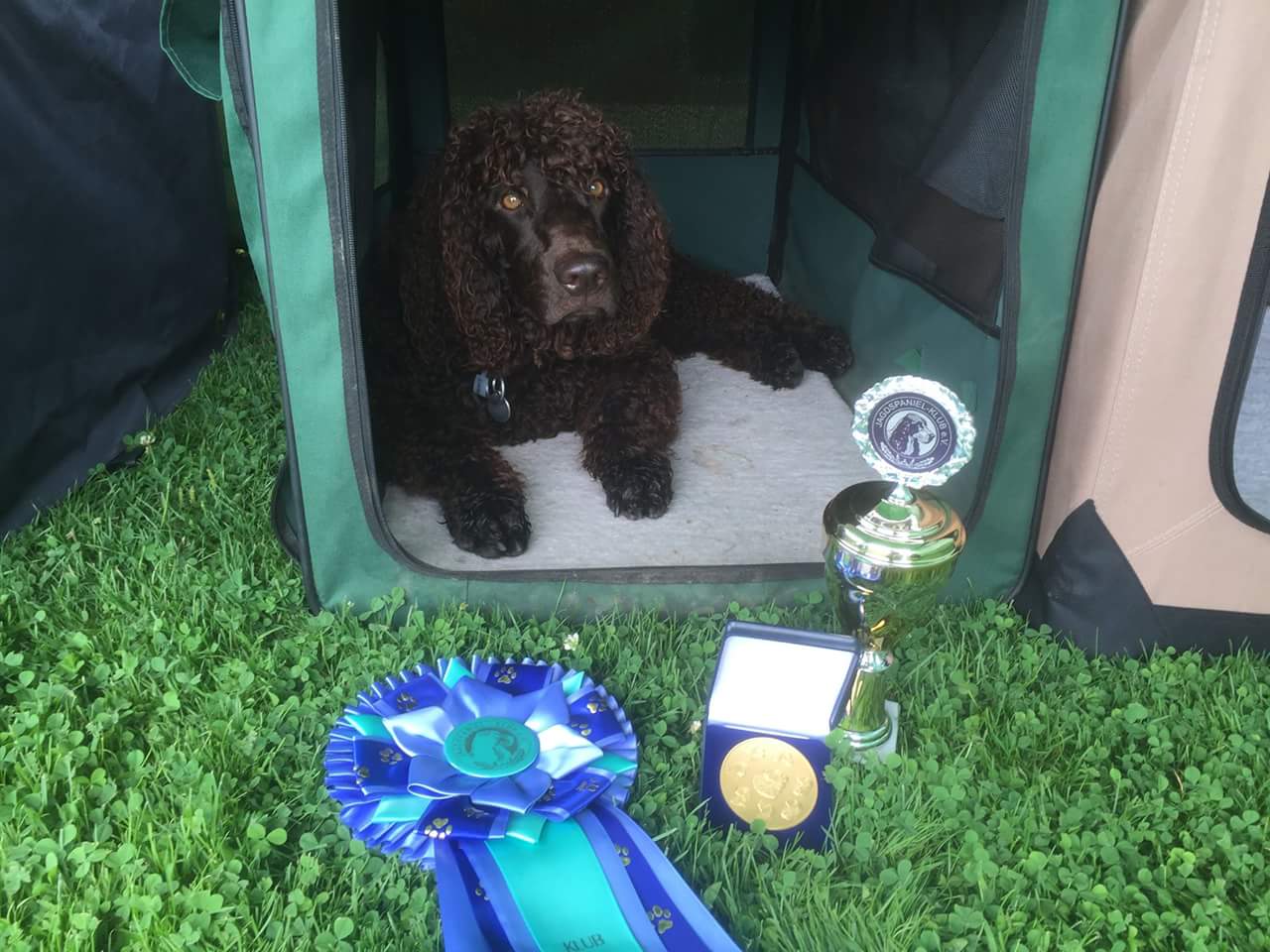 © S. Neuhaus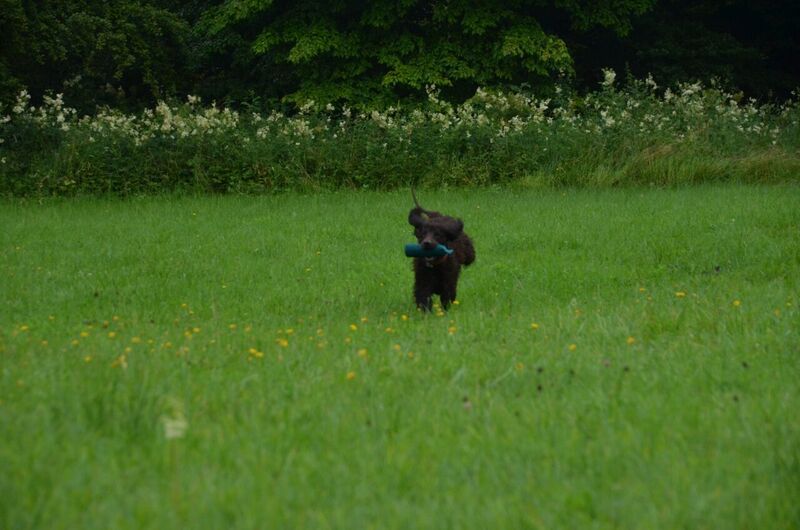 © S. Neuhaus
3rd July 2016
On the birthday of her mother Myra, t.i. 3rd of July, our youngest 'Gailey', Bognaneilean Pheasant's-Eye (10-07-2014)
has participated in the SIWSC Breed Confined Gundog Working Test at Arbury Hall in Nuneaton in England.
Gailey was entered in: Unclassified and gained 2nd place,with 72 out of the 80 points, by doing 4 tests.
Gailey was awarded at the SIWSC breed confined Gundog Working Test, with the Rockmoor Perpetual Challenge Trophy. Myra can be proud of her daughter
Gailey!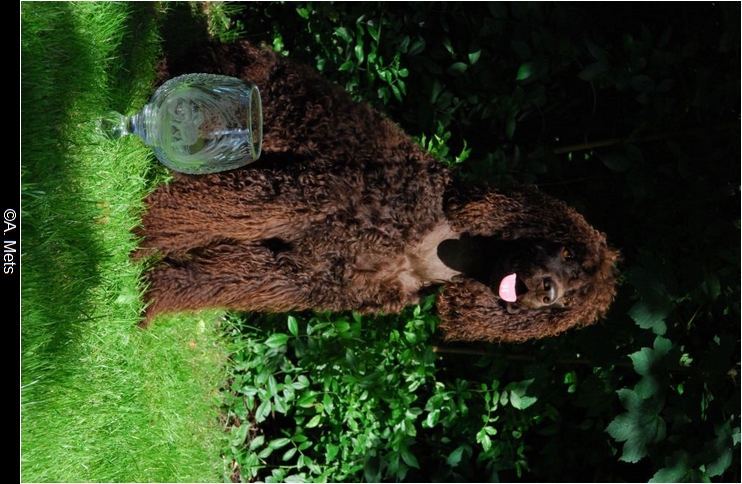 Also to be seen at www.SIWSC.com, 'Latest News', results Breed Confined Working Test 2016.
11th of March 2016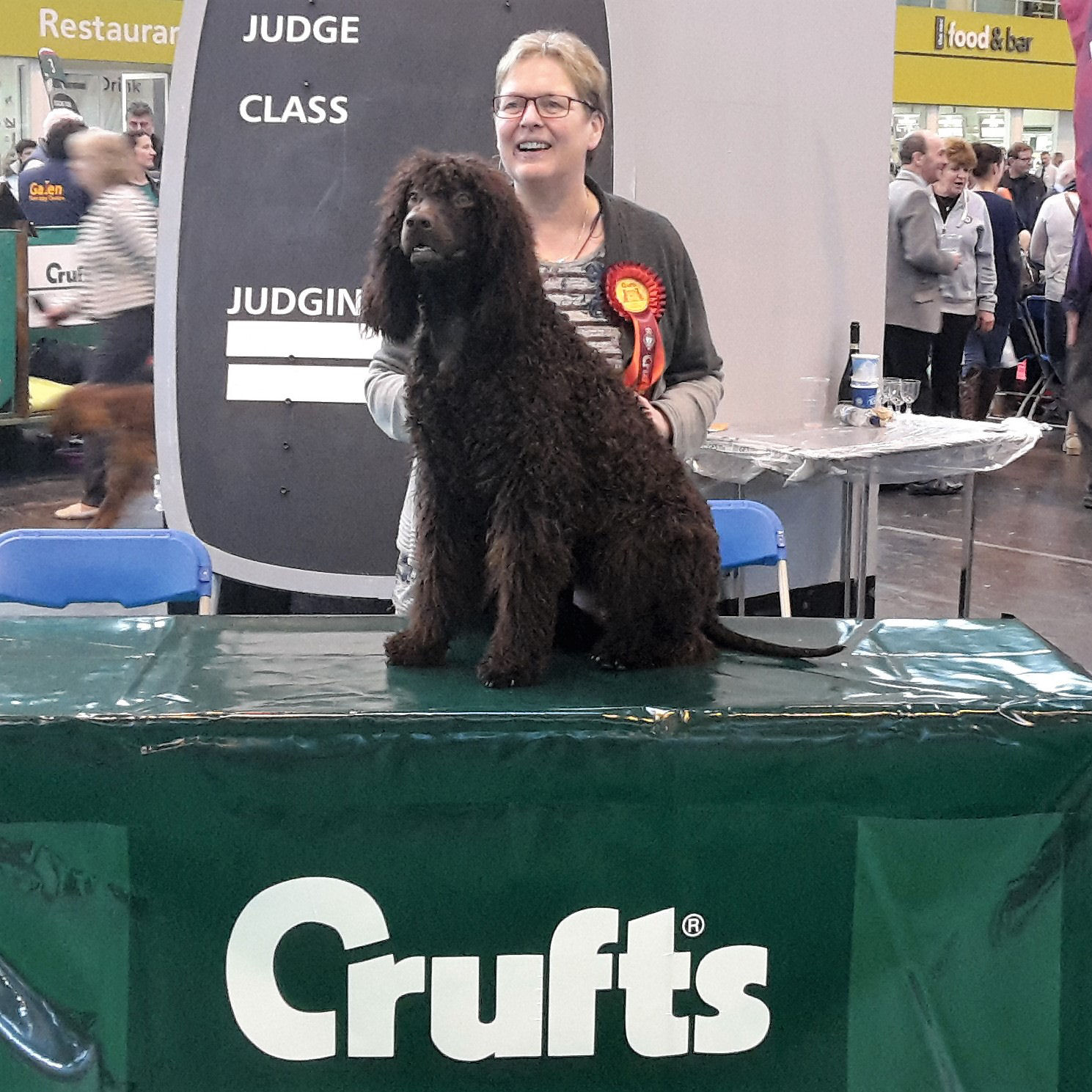 Uitslag pup Bognaneilean Fox and Cubs, 'Derry', NJK en JW 2015 'Derry' (Fynder It's Swampy x Ned. Kamp. Realta's Double Star,
our 'Myra'), at CRUFTS 2016:
Klasse: Limit Bitch:
1st !


Congrats Karin Huijsman!!!

---
Bognaneilean Foxglove, 'Darren: reu.
Litter brother,Darren, was successful also. In

2015

next titles were gained:
-
Belgian Youth Champion
(Belgium)
-
Brabo Youth winner 2015
(NL).
-
European Youth 'Sieger 2015'
(Germany)
-
Hop prince 2015
(Wiezel) Belgium
-

4 x Excellent in Youth class dogs, at several dog shows in the Netherlands, 1 x BOB

(Oss) en
-
1 Excellent en BOS
(Zwolle).
Congratulations
Anja en Toon Robbeson, with the results with your Darren. Well done!
Succes in 2016!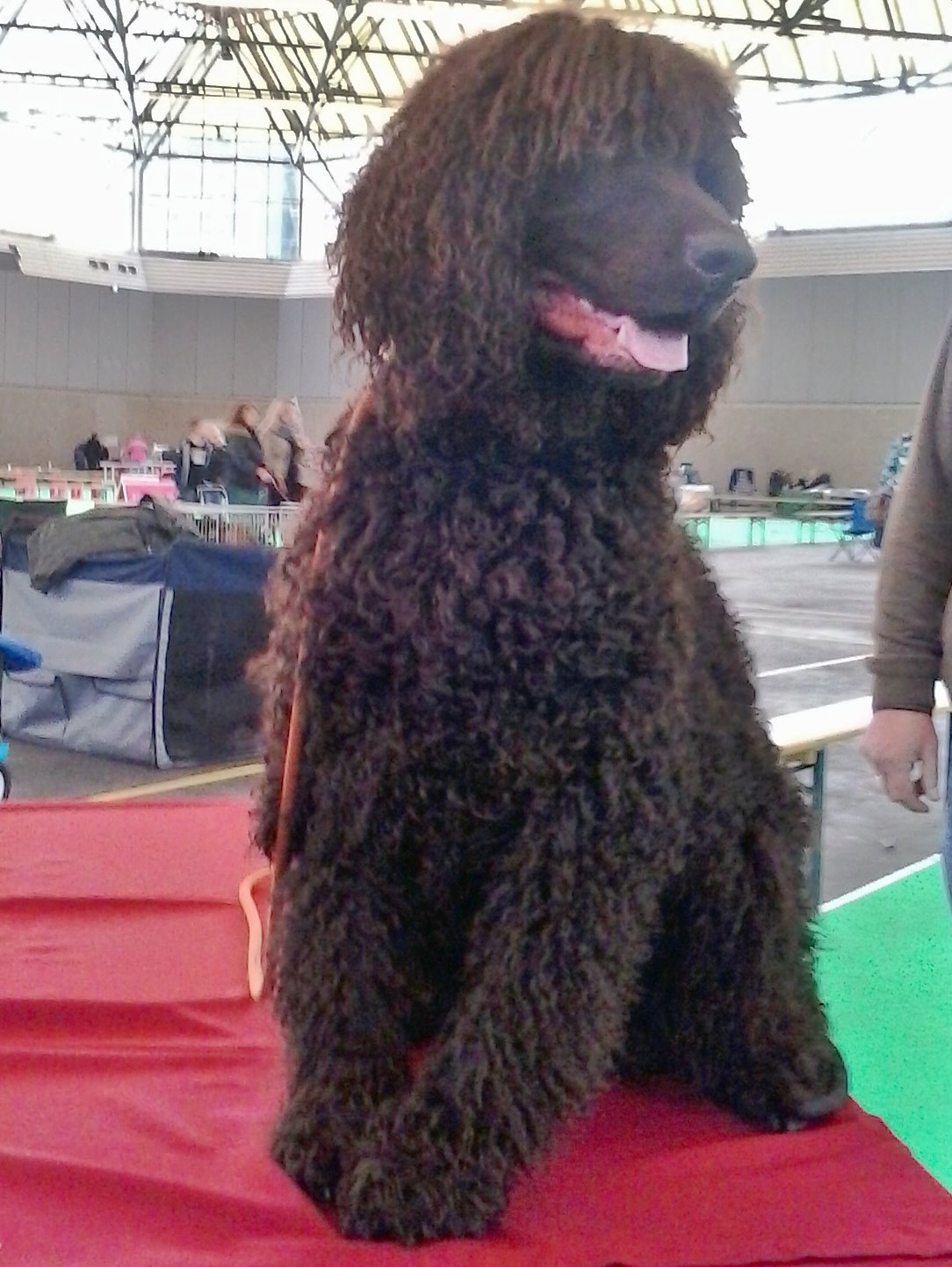 On the 19th of December 2015 our Gailey (Bognaneilean Pheasant's-Eye) passed at the KC Gooi en Eemland,
the B-test and gained a certificate! (met 75 van de 85 punten)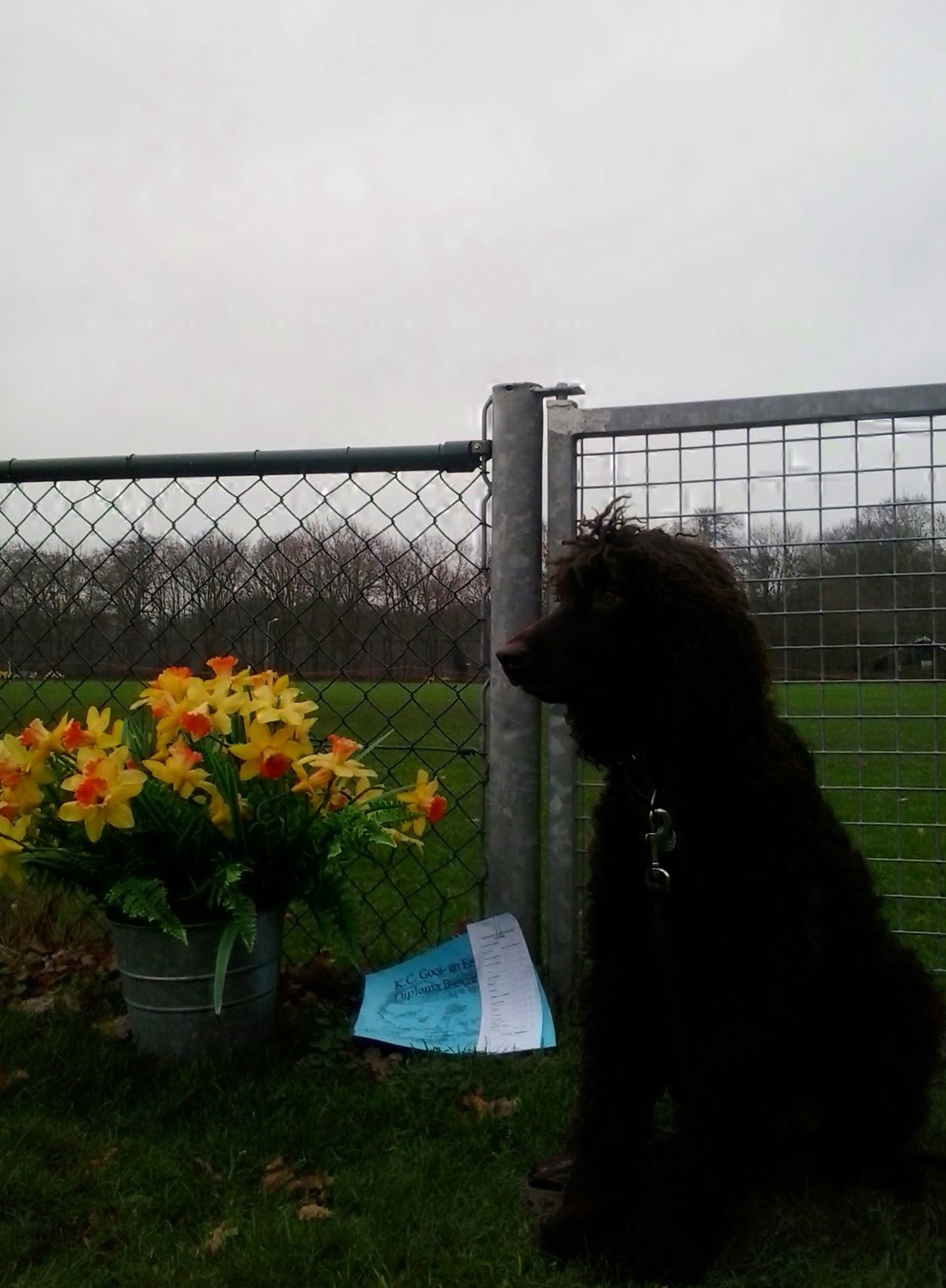 13rd of December 2015: Winner dog show Amsterdam: Bognaneilean Fox and Cubs, 'Derry', gained
Youth Winner title, and her Dutch Youth Championship . At the end of the day Derry was 3e BIS in de Junior
competition of the Winner dog show 2015!! Congrats Karin Huijsman.
On the 29th of August 2015
Myra
(
Kamp. Realta's Double Star
) participated at a KNJV cold game test in Leeuwedorp (Zld.)
7
tests of the 8 (obliged for the B-certificate) were done well, but a pity she missed one. Still a nice C-certificate 2015!
On the 22nd of August 2015 Myra participated at the Spaniel Working Test / Laren (Gld.)
Just arrived home from holiday in Scotland with us, and right o the job again ;-)................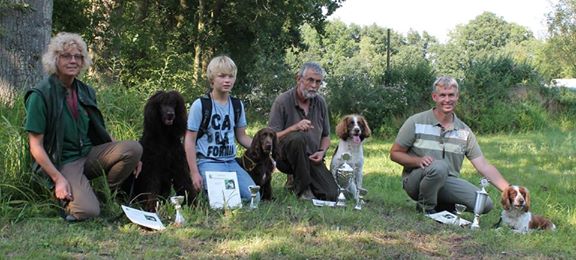 © Spaniel Groep Oost.
10 July 2015
The Bognaneilean "Wild plants" litter turned 1 year old, today.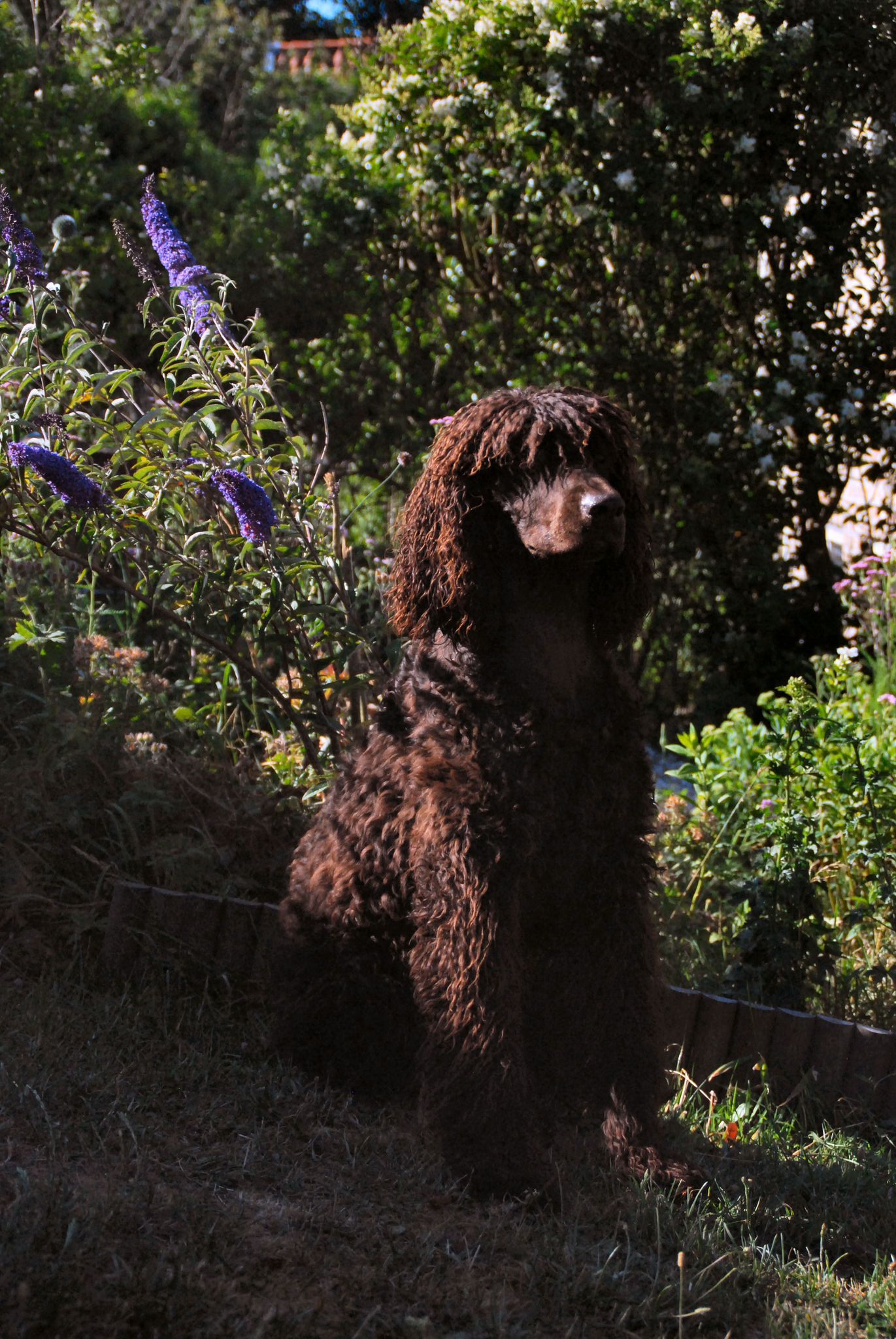 Gailey "Bognaneilean Pheasant's-Eye"
30 May 2015:
Puppydag of the "wild plants" Bognaneilean litter, in Zeeland.
28 May 2015:
Bognaneilean Pheasant's-Eye, 'Gailey', gained a certificate at the KC Gooi en Eemland
of the A-test ! (61 of the 64 points)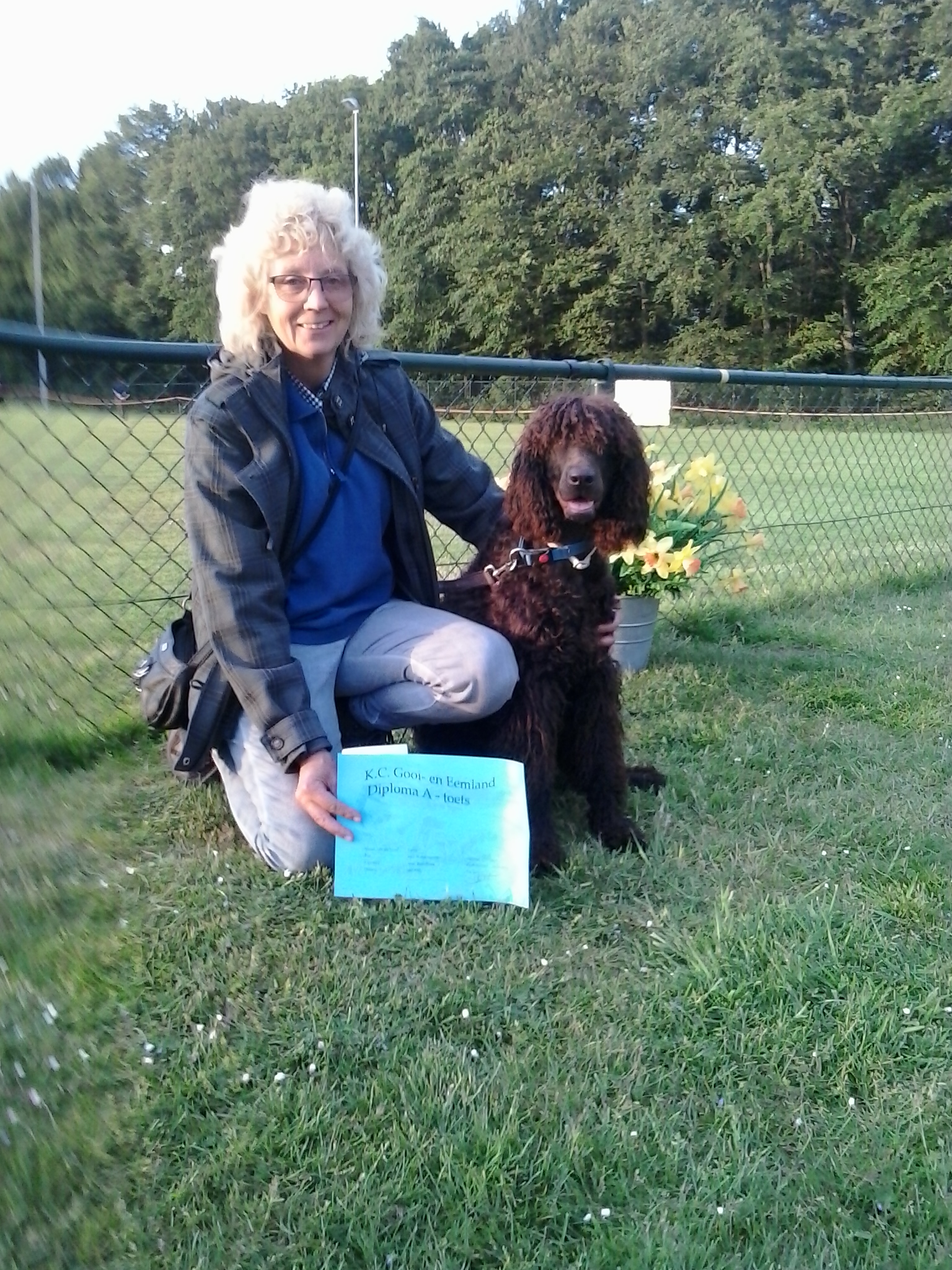 17 September 2014
Saracen Eminently Eamon.nl, 'Eamon', trialer sadly passed away. He became 14 years and 7 months of age.
10 July 2014
NL Ch. Realta's Double Star (Myra)
has delivered 8 pups. 4 dogs and 4 bitches.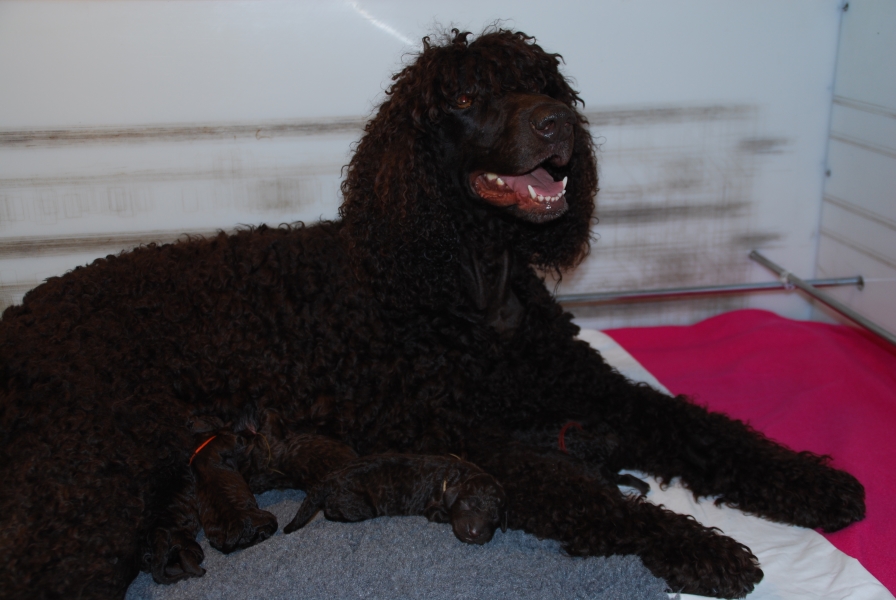 Pedigree of the pups
__________________________________________________________________________________________
At the 16th of February 2014 Saracen Eminently Eamon.nl, trialer turned 14 years!
He is still enjoying life.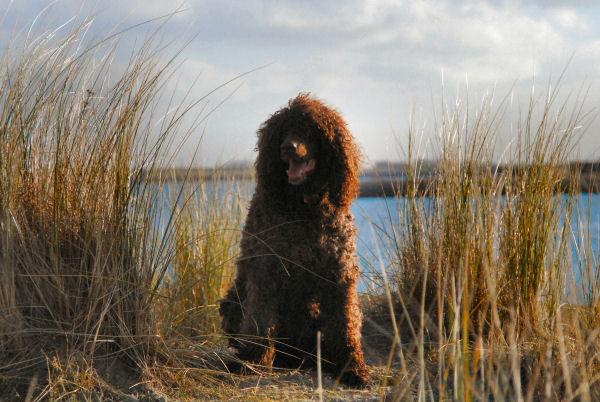 __________________________________________________________________________________________

17th of August 2013: At the KNJV coldgame test in Veenhuizen Myra gained a
KNJV B
-certificate.
__________________________________________________________________________________________
20th of April 2013: Myra has gained the
Dutch show championship
at the international Dogshow Goes.
From now on she is:
"
NL Ch. Realta's Double Star
"
______________________________________________________________________
9th of September 2012 CAC dogshow at Alkmaar,
1 Excellent, CAC, Best bitch, BOB, group 5.
__________________________________________________________________________________________
26th of Augustus 2012 at the SIWSC breedconfined gundog workingtest in England: Unclassified: Award of Merit!
__________________________________________________________________________________________
3rd of June 2012 Realta's Double Star, 'Myra' was entered in Open Class at the Gundog show in Bennekom.
She gained 1 Excellent and got the RCAC.
__________________________________________________________________________________________
May 2012: The health tests are completed! Eyes unaffected (ECVO), Hips HD FCI-A NB 38, Thyroid Normal, Elbows FCI Left and Right, free.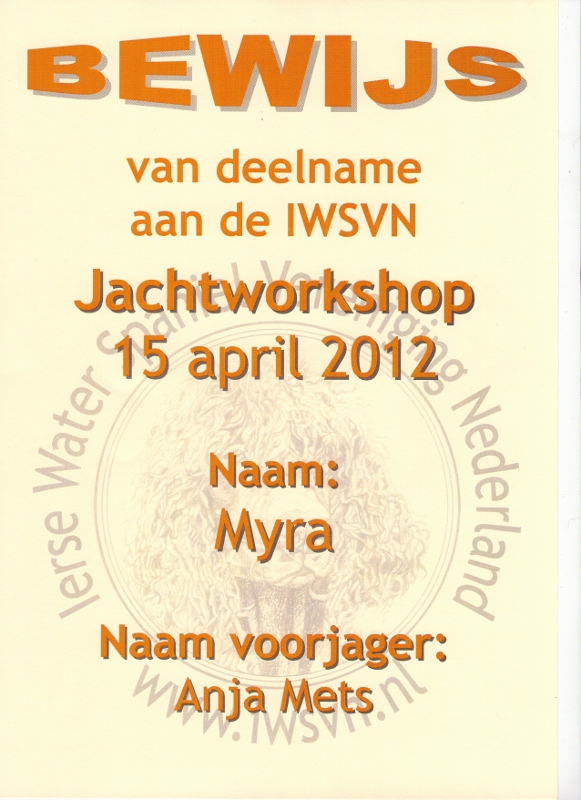 __________________________________________________________________________________________
15th of April 2012: Myra participated with 7 other IWS's in the IWSVN Gundog workshop/training in
Uffelte. It was a very, very cold but wonderful and interesting day. Being 21 months old, she showed nice
work and didn't mind to swim across the canal to find the cold game (mallard) in the terrain on the
opposite side of the canal and did a fast retrieve to hand.
__________________________________________________________________________________________
9th April 2012: Realta's Double Star, 'Myra' was entered in Open Class at the Easter dog show in Leeuwarden
she gained 1 Very Good.
__________________________________________________________________________________________
February 2012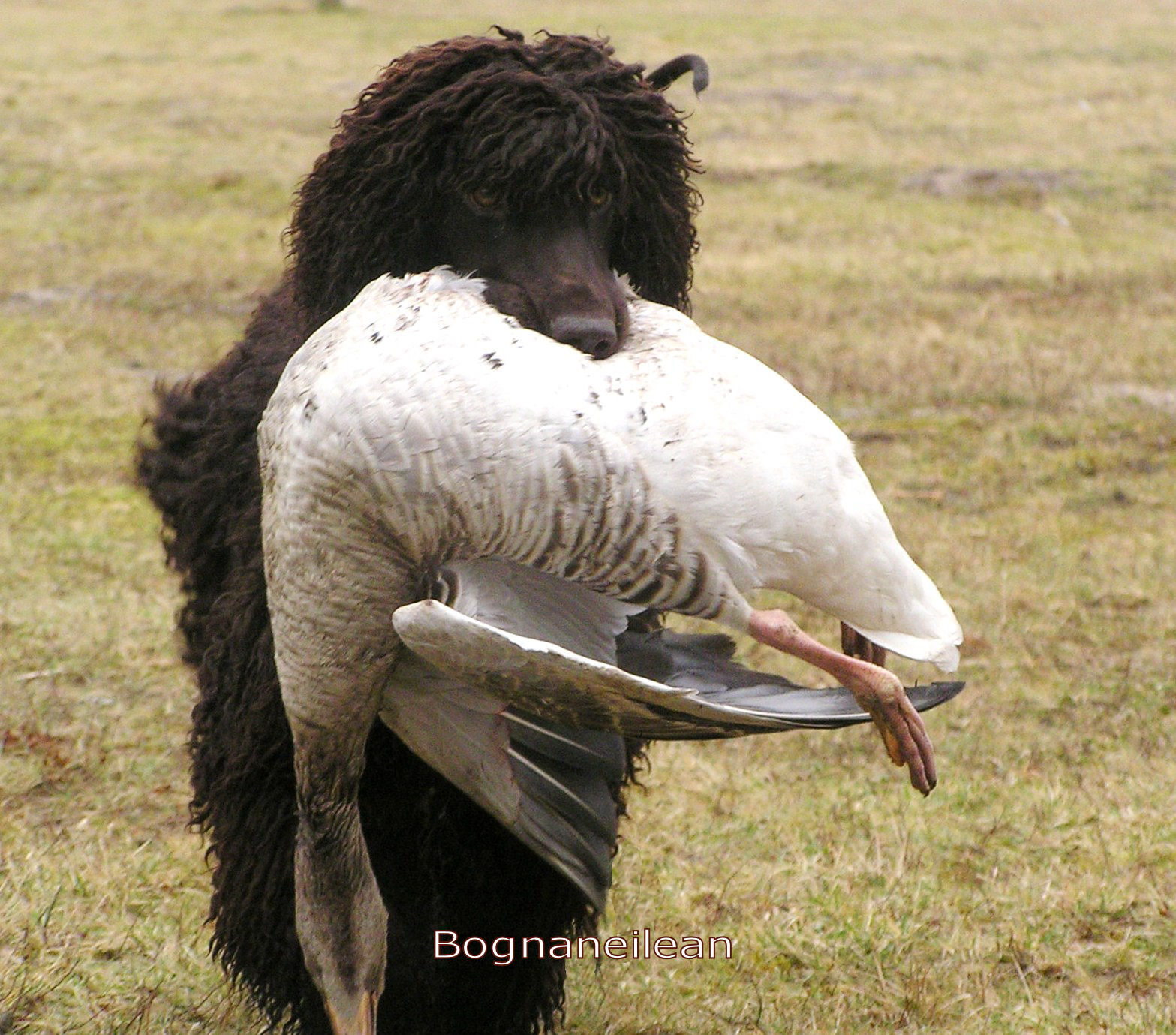 Myra, my sweet 'muscle girl'.
© I. Schierbeek
---
12th of December 2011
Myra was at the X-mas show in Wijchen NL, 1 excellent and gained herewith BOB / CC.
---
Myra's first practical shoot - 5th of November 2011. Rerieving a Rooster, (Pheasant).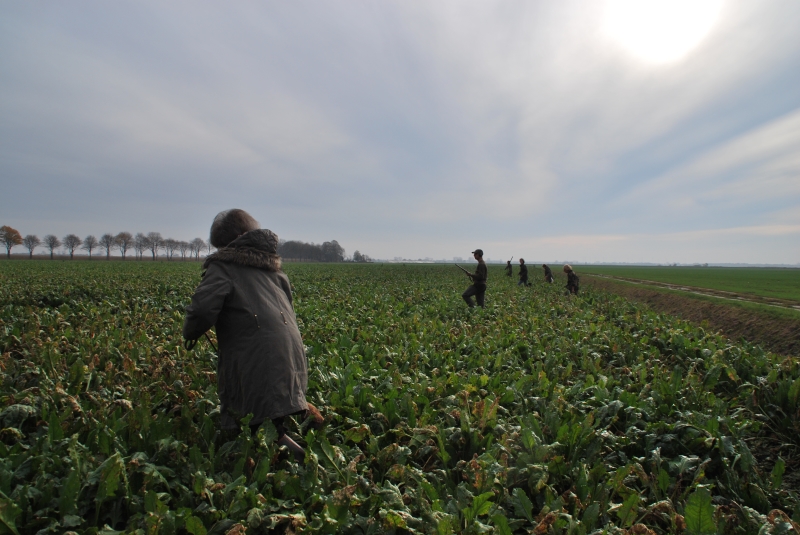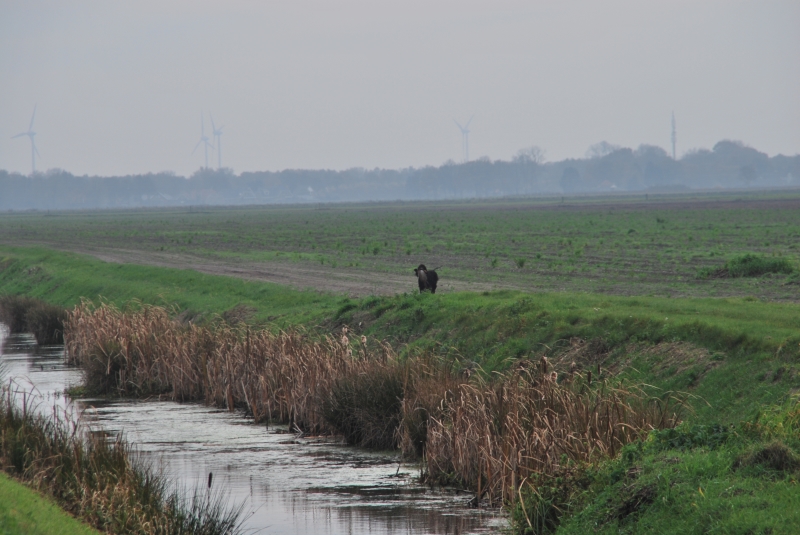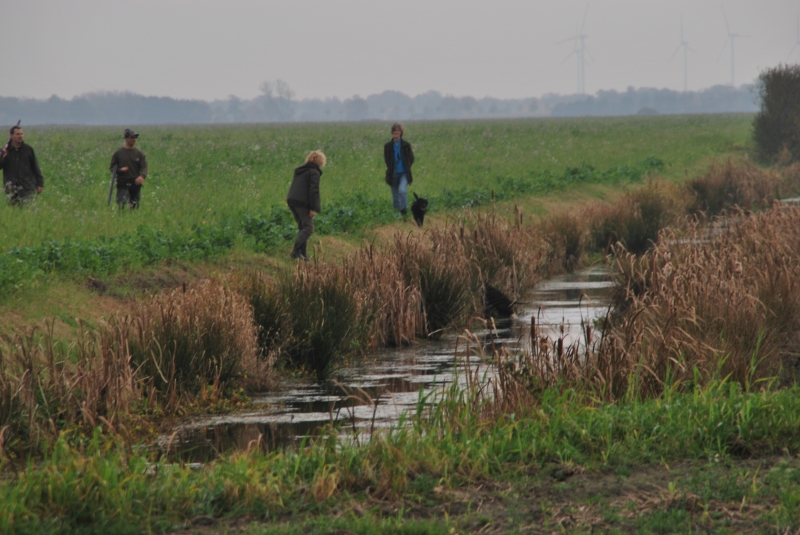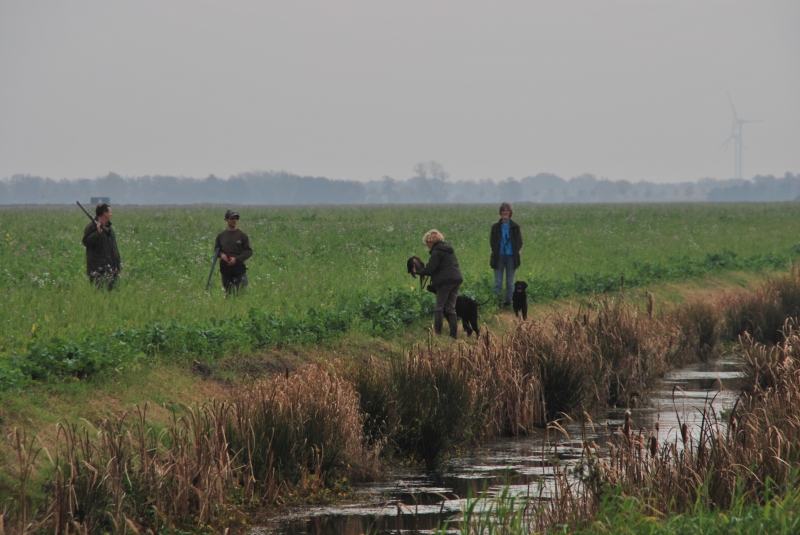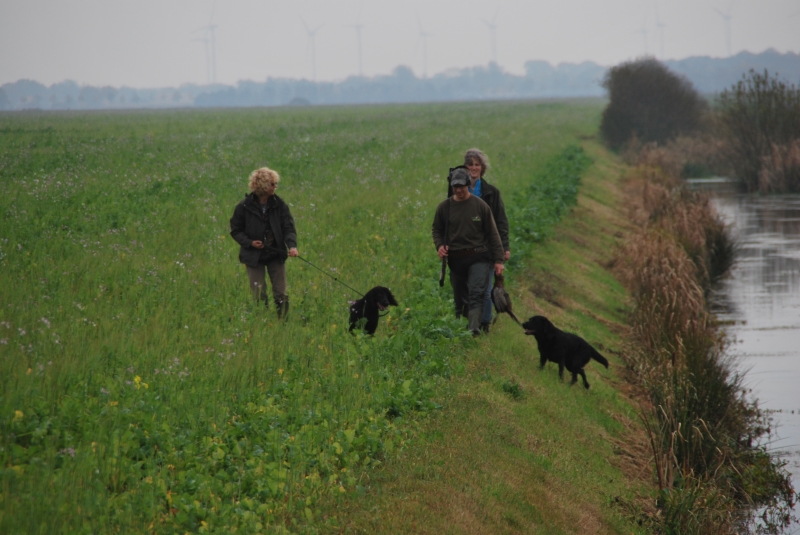 ---
IWSVN KCM 2011, September 3rd 2011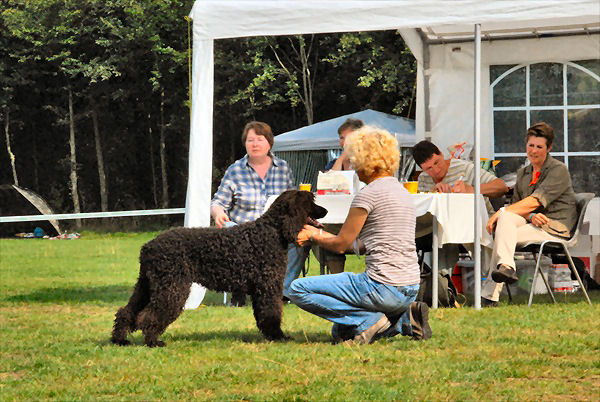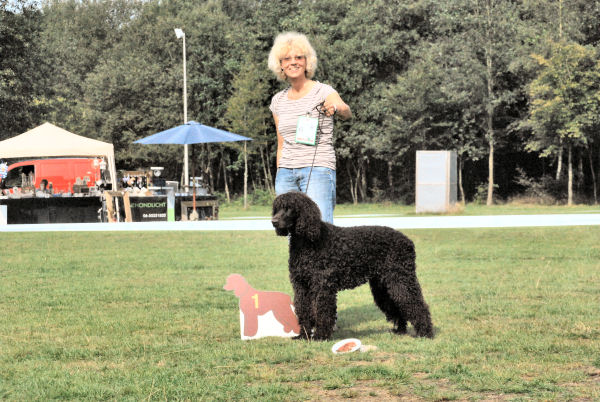 ---
Eamon's 11th birthday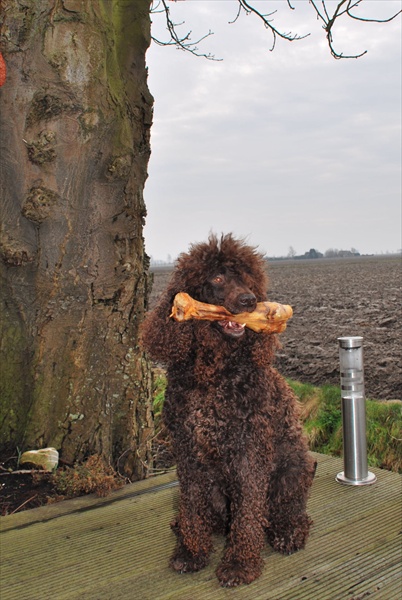 ---
On the 13th of November 2010
Eamon
participated in a private shoot. Herewith an impression.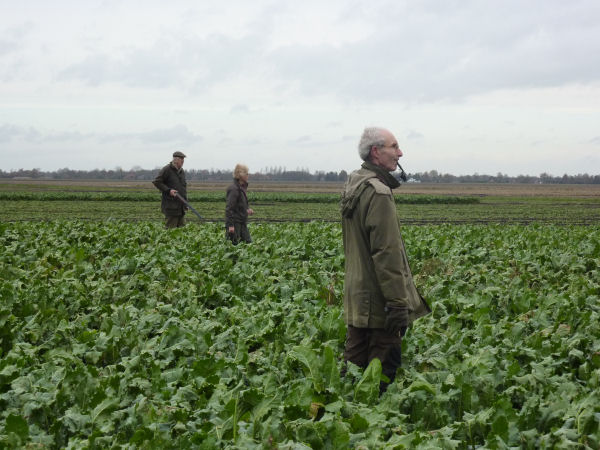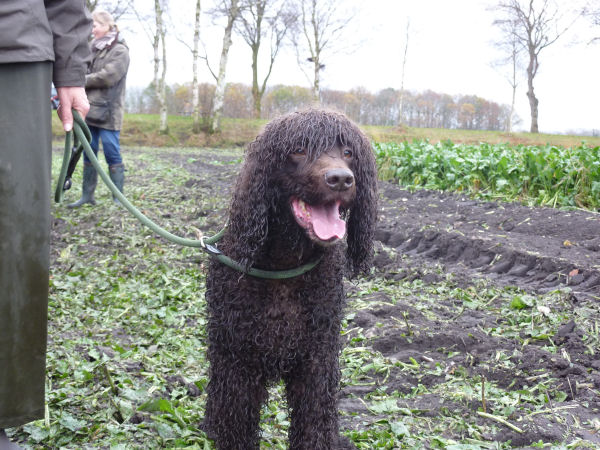 © J.M. Op 't Land